art classes
LATEST NEWS
New Art Class 'Sip, Draw and Paint' series
We are starting a new series of art classes on 30th October 2017 - for 6 Monday evenings from 7.15pm-9.45pm. The cost for 6 weeks is $300. To book we request a downpayment of $150. If you email us your details we will send you an invoice; you can then EFT the deposit. We provide all the materials: pencil, charcoal, pastels, paints, paper, canvases, brushes, palettes & easels.
These are the dates: 30th October, 6th November, 13th November, 20th November, 27th November, 4th December
To book email us: jmATartlogic.com.au or call us on 0432 924 305
Here are some photos from a current art class:
Taking the time to appraise your artwork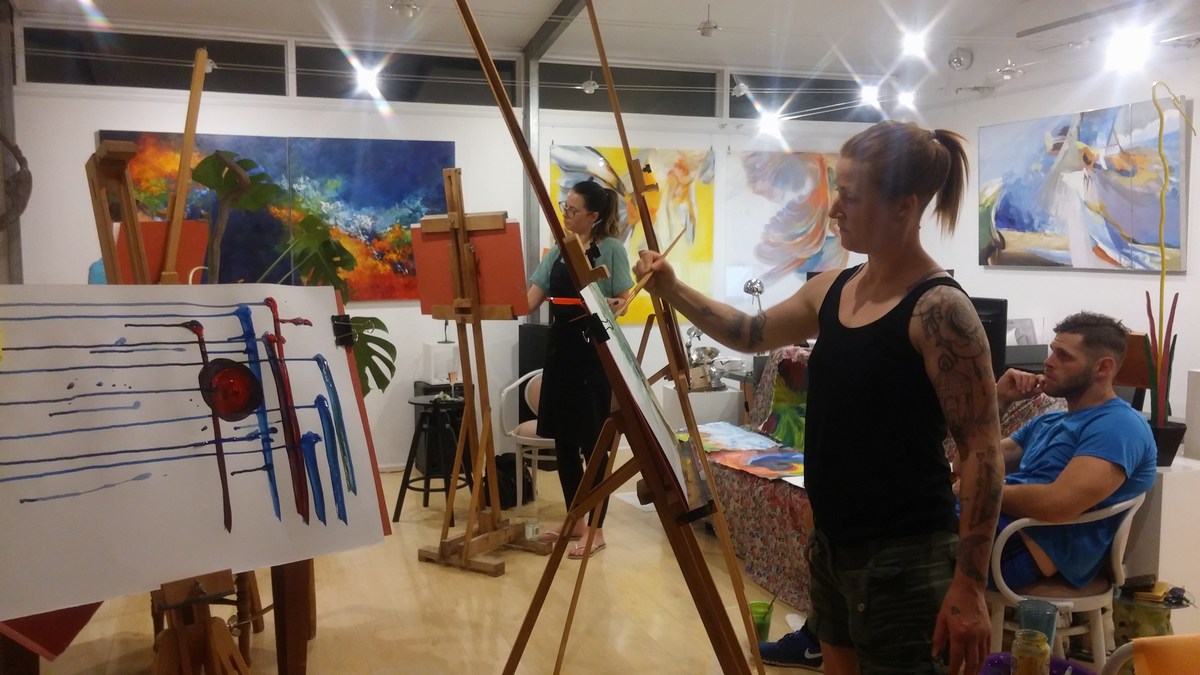 One thing that is almost as important as the painting itself is to sit back and take the time to dwell on what you are creating. Which parts sing? Are there sections that need enhancing. Do connections need to be created between different areas of the painting?
Our Art Teacher Analyses Students' Creations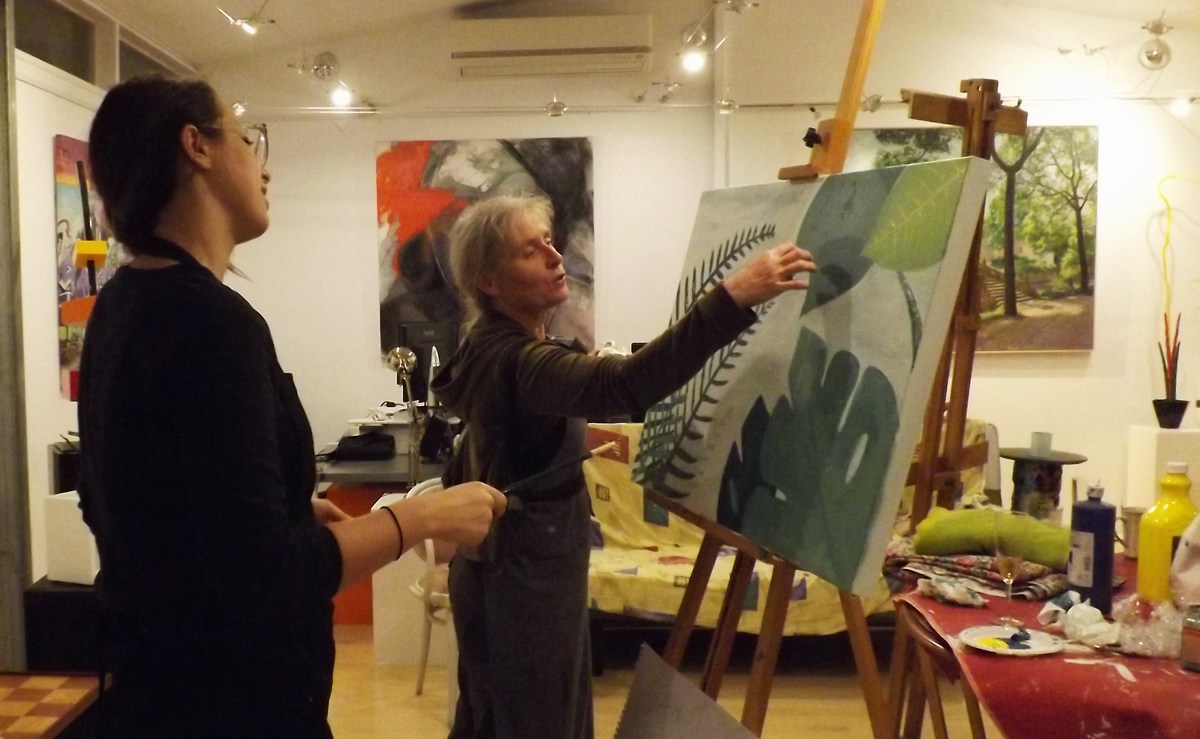 Our teacher Cynthia discusses Laura's creation with her. The piece has integrity, it reveals Laura's love of the colour green, her spirited being and her connection to plants. Together they appraise her use of colour, the artwork's texture and its balance. They explore Laura's lines - do they articulate the forms she wishes to represent, has she placed them so as to evoke a playful and intriguing rhythmn?
A Live Model For Inspiration
Archer volunteered to model - everyone capture him from a different angle:
Learning Different Art Techniques
One technique Cynthia teaches is creating a small 'viewfinder' which enables you to analyse what you are most attracted to which in turn is then the basis for your artwork.
The below photo shows which selection the 'viewfinder technique' inspired Raechel and Ellie to draw.
Information About Our Art Classes
Our art classes run for 2.5 hours and students sign up for 6 weeks. The maximum number of students is 8.
The cost per evening is $50, so for an 6 week period $300. We provide all the materials: pencil, charcoal, pastels, paints, paper, canvases, brushes, palettes & easels.

Our evening classes allow you to express your creativity, experiment with different mediums, and develop your drawing technique in a fun and creative environment.

You'll be working in pencil, charcoal, pastels and acrylic paints to capture a range of still-life objects (some easy, some more challenging!), life drawing as well as self-portraits and abstracts all building confidence in your work.
These classes are perfect for beginners as well as for those who have some drawing experience and are looking to hone their skills. You'll receive plenty of guidance and support. If you have particular wishes our teacher is able to focus on that.

During the classes we:
• Get things started with warm-up exercises – we'll start with some quick sketches
• Work with still-life set pieces – you can bring your own objects if you wish
• Develop different techniques with different materials
• Learn about basic perspective and proportions
• Explore the different qualities of pencil, charcoal, pastels and paints

Charcoal and pastel can be messy, so bring a protective apron (there will be a few available for those who have come straight from work), or wear washable clothes!

These sessions are a relaxing haven away from busy life, lose yourself in the creative buzz of the Art Logic Gallery.

'Draw, Paint and Sip' Art Classes

In our 'draw paint and sip' art classes you learn about art and form and colour and flow … and leave the stresses of daily life far behind you. Capturing the true essence of an image by applying paint to a canvas often requires a stroke of divine inspiration – like a glass of pinot grigio, or shiraz. Various cheeses help, too: an old cheddar, a stinky camembert. Just the essentials any artist needs to bring a new work into the world, nothing too excessive. And of course the right kind of music playing in the background…

Our art classes are run by successful Adelaide-based artists who have been trained as teachers and know how to mix art with fun. They are held on evenings during weekdays (7:30pm-9:30pm) and on weekends (2-5pm) and are for adults. They take place in our art gallery at Largs North. They combine the whimsy of happy hour with the discipline of an art class.


'Draw, Paint and Sip' Beginner's art classes

Our beginner's classes are for anyone with a passion for art who has never taken art classes or for someone who has learned art a fair while ago and wants to pick it up again.
In our beginner's classes we teach students the basic techniques of drawing and painting. You will learn about lines, shading, mixing colours, composition and dimensions. The structure of our classes enable you to achieve a good understanding of forms by first learning to draw various geometric shapes and single objects. Then we proceed to teaching you painting, colour mixing techniques, colour values and how brush strokes can be applied to various textures. Students are introduced to different drawing/painting materials such as charcoal, graphite, pastels, oil paints, watercolour and acrylic.
There's no pressure. Students just come in, learn some theory, have fun and draw and paint. However, goal-oriented individuals will want to know what these beginner's classes will allow them to achieve.
The step-by-step nature of our teaching makes it easy for you to acquire and polish your drawing and painting skills. At the end of the course, students have a pleasing grasp of form, and are able to use a range of art materials successfully. And most important of all, you leave these classes feeling motivated and enthusiastic.


'Draw, Paint and Sip' Intermediate/advanced art classes

In these classes we support our students in further developing their skills and techniques. Apart from mastering materials such as graphite, charcoal, pastel, oil pastel, oil paints, watercolour, acrylic, students discover and experiment with mixed media. Every class has a different focus, such as group still life, sculpture, landscape, animals, faces and the human body.

These classes are conceived for those with a basic understanding of drawing/painting who wish to further develop their skills. There are also for students who are preparing an art portfolio for degree applications.
In these classes students gain a deeper understanding and appreciation of art, and begin to develop and explore their own unique style of self-expression.
'Draw, Paint and Sip' Life Drawing/Painting art classes
In this class we explore different aspects of drawing the human figure. Students develop their skills in drawing the human form (faces, the entire body, hands, feet, movement etc.) by understanding the human anatomy (e.g. shape of muscles and skeleton) and translating that onto paper. We explore the human figure using various mediums such as graphite, charcoal, pastels, ink, oil paint, watercolour and acrylic (or a combination of them).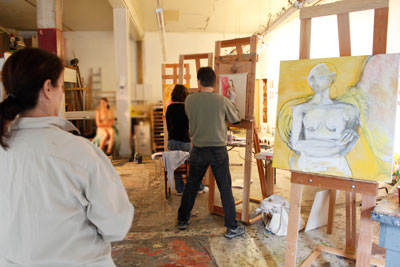 We provide our students with both male and female professional life drawing models of all ages and ethnicities. Those times vary; at the beginning of the lesson they are shorter, and last pose is the longest. Depending on the theme of the day, the model is either be nude or clothed.

Anyone wanting to practice and excel in their life-drawing and portrait painting abilities is welcome to come to these classes.
We explore the beauty of the human figure and thereby develop refined observation skills. Students perfect the simple techniques of life drawing and learn how to release, express and mould their inner artist. Quite quickly you will become proficient in drawing/painting the human form using various mediums. In particular, you will understand how to paint/draw the human form accurately, and how to best use light and tone in expressing a character. Our tutors teach you to build up a picture of your subject's life by incorporating settings and backgrounds. By the end of this course you will have quite a few magnificent drawings and paintings to add to your own personal art collection.

In a nutshell

Because our classes are well thought out and structured they enable you to develop skills with ease. What we offer is social, creative and you get to drink wine.

Despite all the imbibing, rest assured; any chaos is controlled, both on and off canvas. Nobody gets too sloppy, it wouldn't be good for the painting. No paint fights, so far. Or food fights, for that matter. And no annoying the instructors, either.
What our classes are NOT like: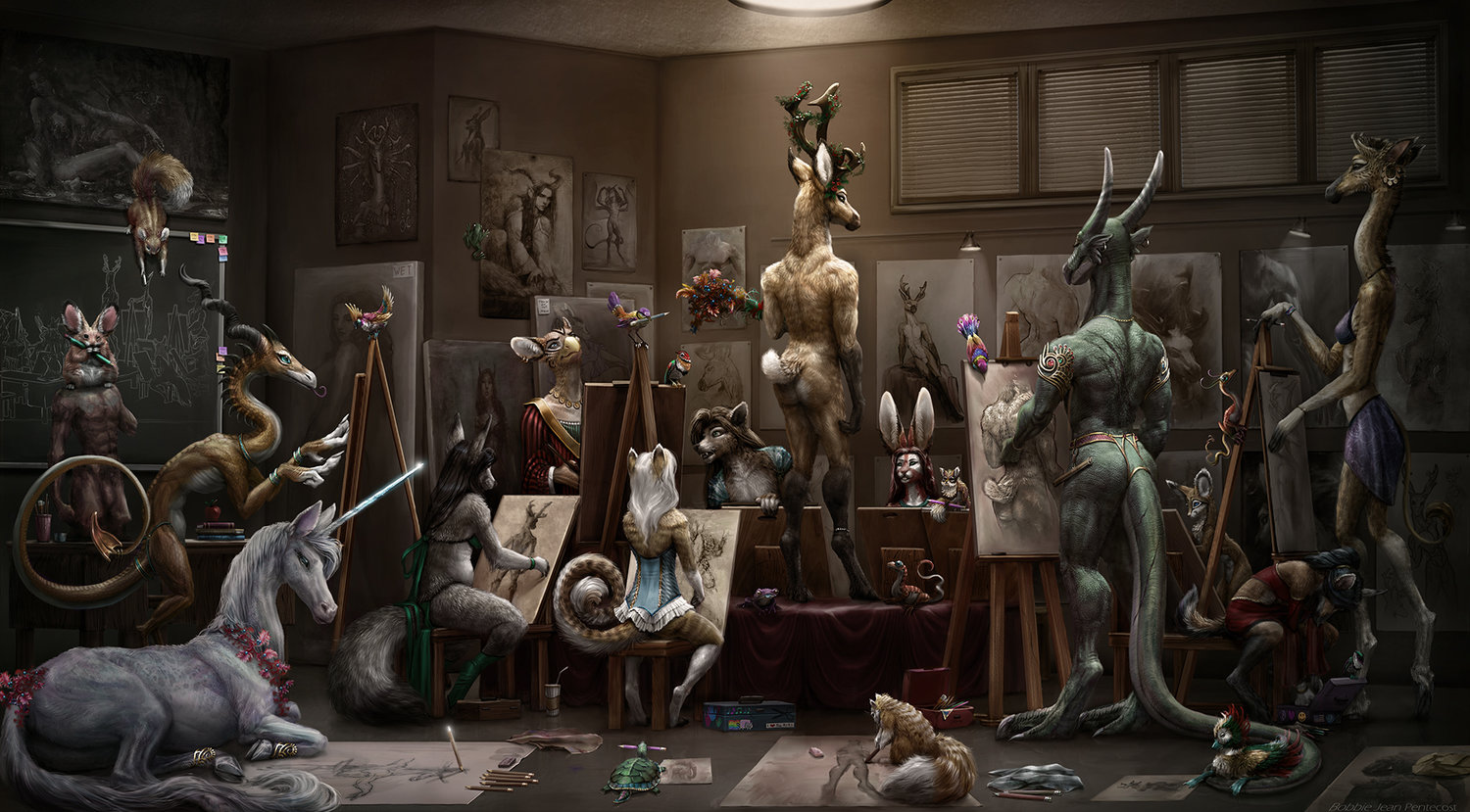 Art Materials
Our beginner classes include materials. We recommend that more advanced students bring their own materials.
We suggest different shops where you can buy the materials you require.