Jane Smeets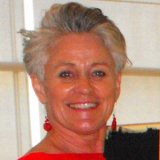 Jane Smeets is an Adelaide based artist and currently teaching painting, sculpture and mosaic.
My artistic practice is fluid as I work with a variety of mediums ranging from oils, acrylics, cement, plaster, clay and found objects. The use of these materials ebb and flow as I find the best representation to express my intention.
The common thread that appears throughout my work is the concept of "oneness". How humans continually seek to separate themselves from their environment fascinates me. When aware of one's oneness one can connect to something bigger and beautiful.

Though I enjoy my artist journey as an individual community art has become one of my passions. I love encouraging people to explore their creativity and go beyond past belief systems. I feel that self-expression through art making is a necessary human experience.
Throughout my career I have been involved with public and private commissions in the area of painting, sculpture, mosaics and murals. Projects include art installations at Catherine House, primary schools, Dale St Women's Story Wall, and Yankallia Mosaic Marine Sculpture.
I have an ongoing commitment to share my knowledge and skills with a broader audience and inspire others to create art.

---
CURRICULUM VITAE
1990-94 Milliner
1990-95 Adelaide Central Art student
2000-09 Teacher of Art – The Seahouse
2000-09 Mural and Mosaic commissions private and public
2002 Mosaic teacher at Catherine House - voluntary
2000-03 Member of The Adelaide Potters Association
2003 WPPS mosaic library bench project - voluntary
2003 Artist support – Broughton Art Society for the disabled – voluntary
2003 Loreto Spring Art Exhibition
2003-04 Dale Street Women's Health Centre – Women's Story Wall project
A community art project – voluntary
2004 Banque Up contemporary art exhibition – 1st Prize
2004 Erotica Exotica exhibition Greenhill Gallery
2005 Loreto Spring Art - group exhibition
2006 Artistic License Gallery – group exhibition
2006 The Seahouse – group exhibition
2006 Adorn – group exhibition
2006 Artist in residence for Catherine House garden mosaic project – voluntary
2006 Loreto Art exhibition
2007 Artist in residence program (Festival Australian Grant) Community Marine
Mosaic Sculpture and bench
2007 Shoreline exhibition - Studio 13
2007 Sala exhibition – Glenelg Community group exhibition
2007 Loreto Spring Art exhibition
2007 Give and Receive – group exhibition
2007 Bay Discovery exhibition- Palindrome
2007 Let Me Count the Ways- Tess Pike Gallery group exhibition
2008 Brighton Jetty Classics- Sculpture by the Sea – 1st Prize winner
2008 From Fringes the Artist Come - group exhibition Tess Pike Gallery
2008 Zest Café solo exhibition
2008 Loreto Spring Art exhibition
2008 Art Logic – group exhibition
2008 Duthy St Café – solo exhibition
2008 Marymount College – group exhibition
2008 Brighton Jetty Classics – Sculpture by the Sea – group exhibition
2009 Amherst Galleries – Portrait Exhibition