Artist Spotlight: Geoff Stapleton
Entirely too much talent – can an accomplished musician also be a brilliant artist?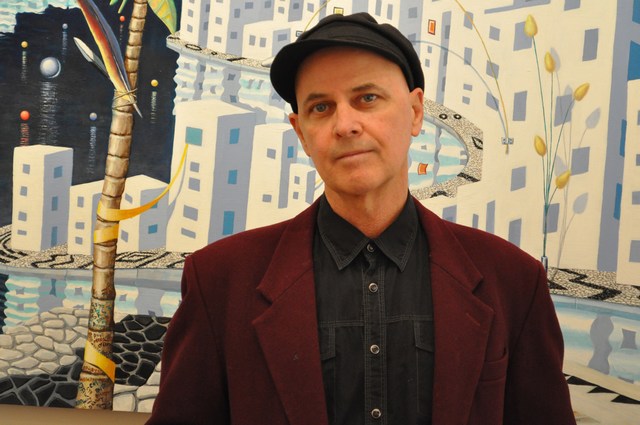 Geoff Stapleton, one of our newest artists, has certainly had an exciting life! He's been a member in quite a few bands, including one (Absent Friends) that accompanied INXS on their 1990 Europe trip, and also, more recently, the acclaimed band GANGgajang. Throughout his travels and work with music, Geoff has remained committed (well, as much as one can be when subject to the stresses of tour) to his art, creating (or at least starting) several of his pieces while 'on the road'.

In fact, he even provided album art for each of the songs on The h.c. Dukes' album 'Harbour City', which he contributed to as a musician as well! As if all of this weren't enough, the man is also a talented writer, having had a hand in writing most of the songs that he's performed over the years.
One of the pieces of album art Geoff has done for GANGgajang.

His series Oceans and Deserts contain many different motifs, but one which the artist himself keeps admitting to returning to is the inclusion of music – the string, present through many of the pieces, is not intended as simply a silent connector, but a potential chord, which can resonate through each viewer's mind. It's not often a painting can activate more than one sense, but not only can you see and hear what is before you, if you truly allow yourself to sink into the piece, sometimes you can find yourself breathing in the salt of the ocean or the dust of the desert.
Many times, Geoff writes of 'finding' his art rather than strictly 'creating' it – many parts of his pieces comes as a surprise, seemingly 'appearing', almost as if by (happy) accident rather than planning on his part. The canvas and the paint evolve and become almost on their own, with his hand and brush simply acting as the 'uncoverer' of these creations.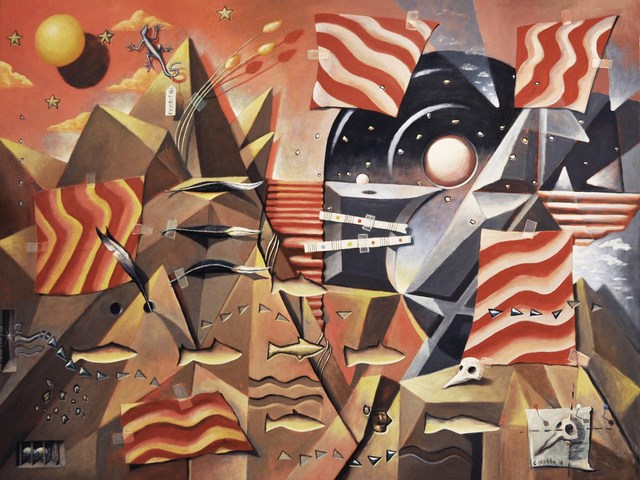 With this sort of background, it's possibly not a surprise that his works are so intricately detailed – truly, even if you didn't fancy yourself a fan of surrealism before, there's something for everyone!