Adelaide SALA 2019 - Art Logic Exhibit
South Australiana – S.A. Icontopia

We're back with a SALA (South Australian Living Artist) exhibit after a 9 year hiatus, and now in a new gallery close to Adelaide's emptiest and loveliest beach.

I, Jacqueline Mitchell, the business owner, come from Sydney. After 25 years of life overseas in Europe and the US, Adelaide was my new home.

Why? Endless beach, friendly inhabitants, rare traffic jams, affordable living, fantastic wine, great bushwalking in the city outskirts and the stunning Flinders Ranges.

Wondering what inspired this exhibition? We often take the beauty of our state for granted . This exhibition is part corrective for that, and part display of 12 talented artists, celebrating S.A.

Do you like art and like South Australia? If so, attendance is compulsory, no excuses.
S.A. from 12 perspectives.

Art to tantalise your art taste buds- from giant daubs of colour to intricate line drawings. From urban scenes to dreamy landscapes. Packed with South Australiana icons - from the Trapdoor spider to the metal wino to faces and places from the news.

You'll be amazed one state can encompass all this.
Come for the icons, stay for the art.
Here's a small preview: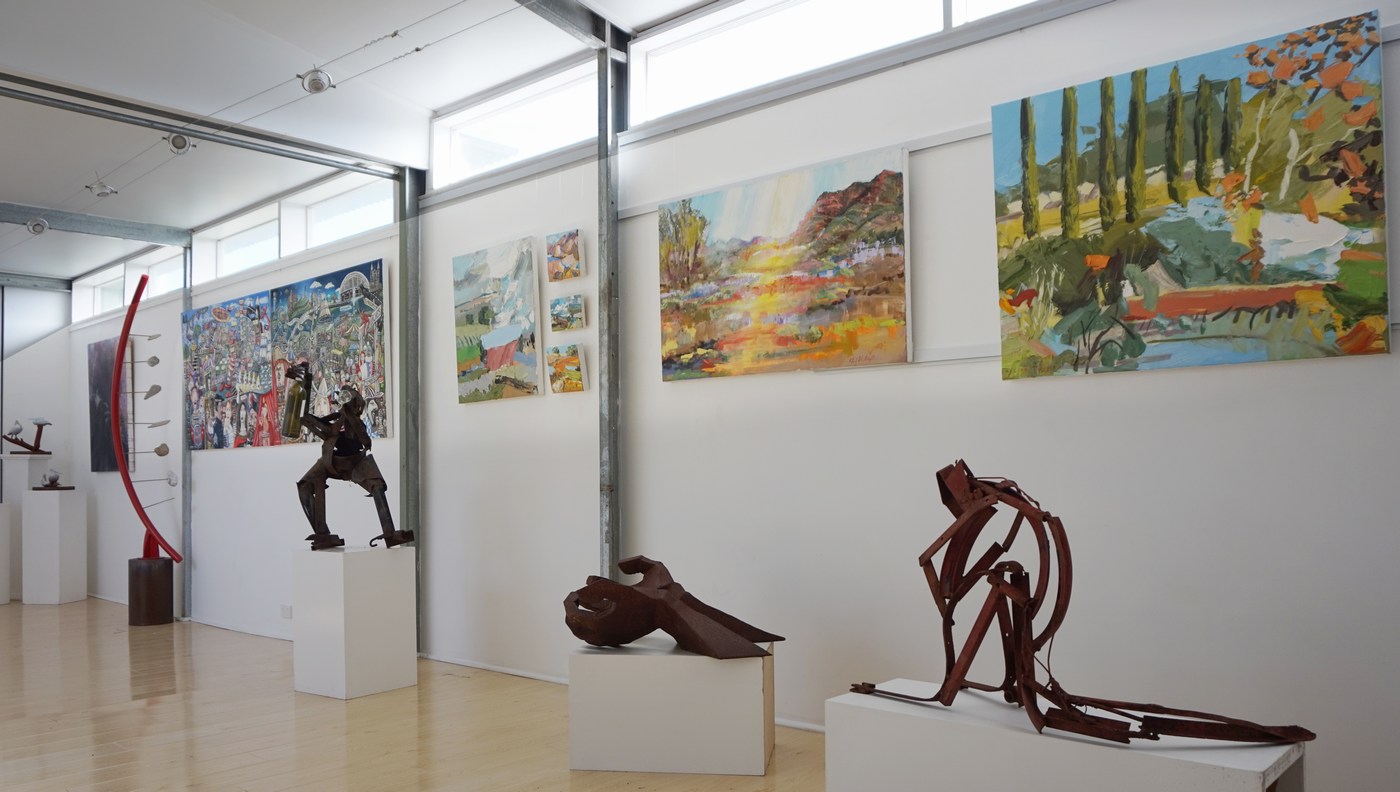 Here's what our gallery looks like.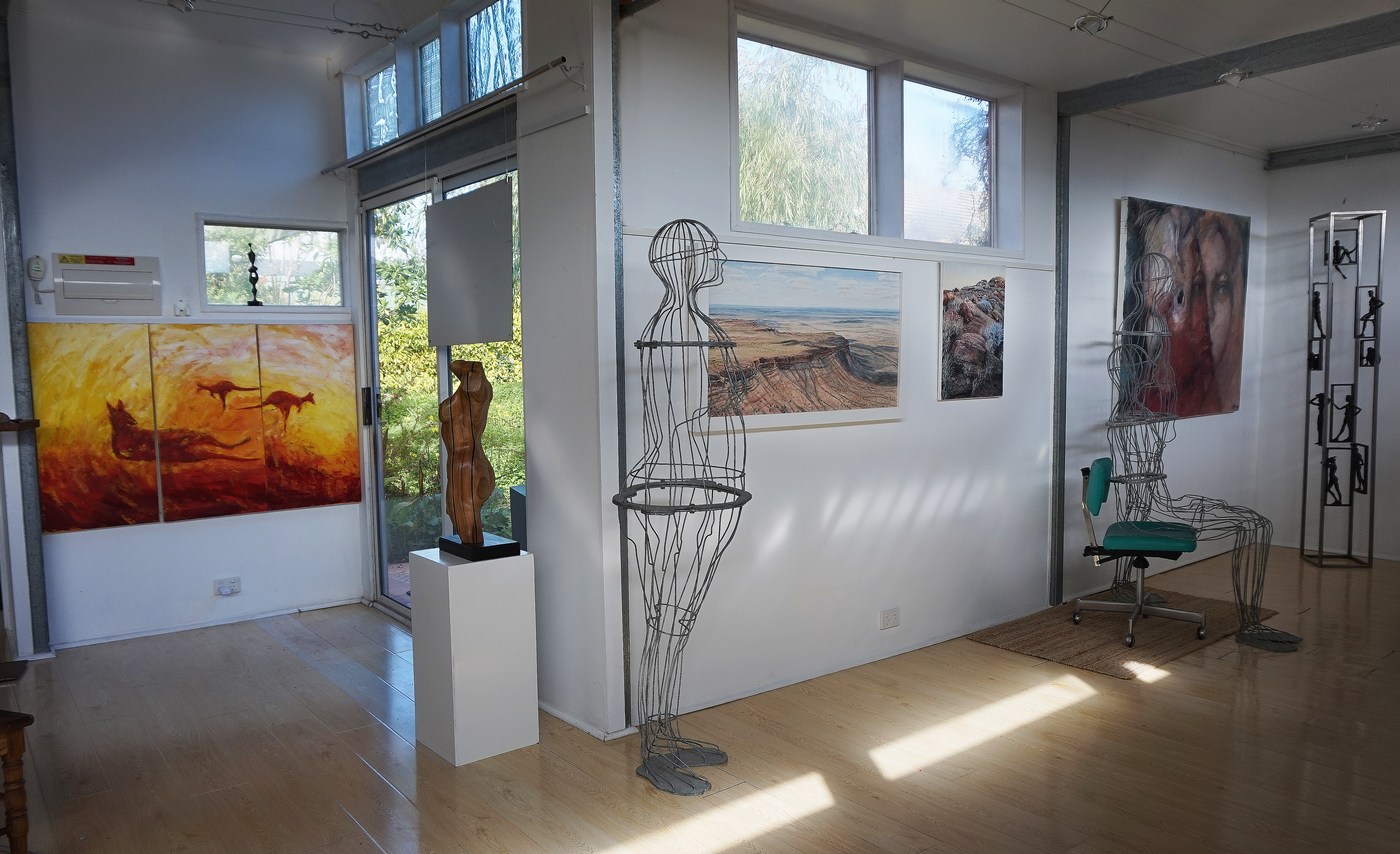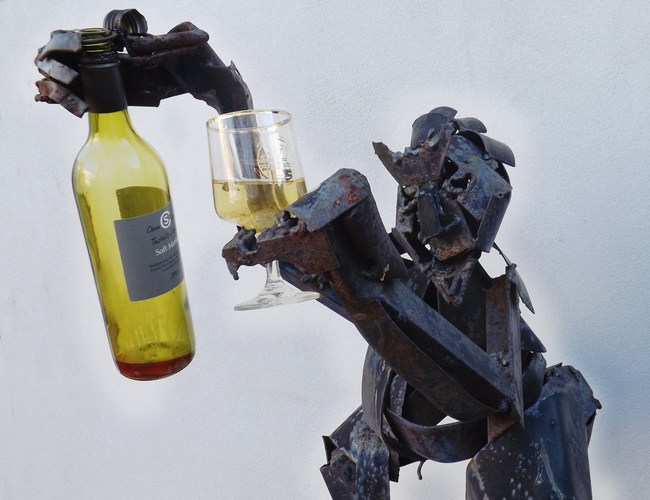 A sculpture in the exhibit: 'Bacchus' by Roland Weight
The God of wine and ritual madenss, usully brough about by intoxication.
'The Road In III' by Lise Temple
Relationships between landscape elements shift as the viewer moves through this re-arrangement of nature.
Celebrating Adelaide by Geoffrey Stapleton
18 Adelaide icons - can you spot them?
'Australian Basin' by Tim Thomson
Much of our South Australian outback was once covered with water.
'Nature's Calling' by Jane Smeets
For me, as a Palliative Care Arts Psychotherapist, a common thread I see in individuals who face the end of their lives, is the call to nature. During the liminal phase between life and death nature seems to call us back, just like a bird song,
'Species Plantarum' by Rick Clise
A Plant must have soemwhere to put its roots.
'Atmospheric' by Alex Toyne
Earth and air elements blend into a far horizon.
'Caged People' by Gerry McMahon
Trapped on an island of subjectivity in an otherwise objective world.