Art Rental Exhibitions
was ART LOGIC's very first client. They started renting art from us in 2005. Prior to that they rented art from Artbank in Sydney - the only government department I know of that makes a profit. How do they do it? They buy art from young, emerging artists, rent it out, mainly to overseas embassies, and when those artists become more established, Artbank can rake in the profits.
Here at ART LOGIC we have a more grass roots approach. We don't buy the artworks off the artists. Artists continue to own their art that we rent. When we organise the rental of their masterpieces, clients pay the artists an art rental fee. The exhibited art is also for sale, and when it sells it's time for a celebration.
BRIF Ferrier has been a brilliant client over the past 10 years. They are open for everything: from graffiti to still life.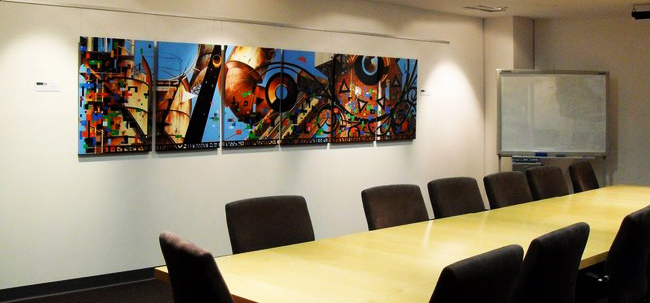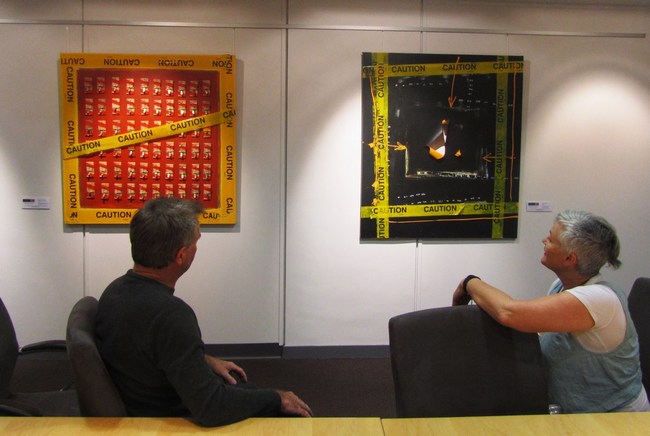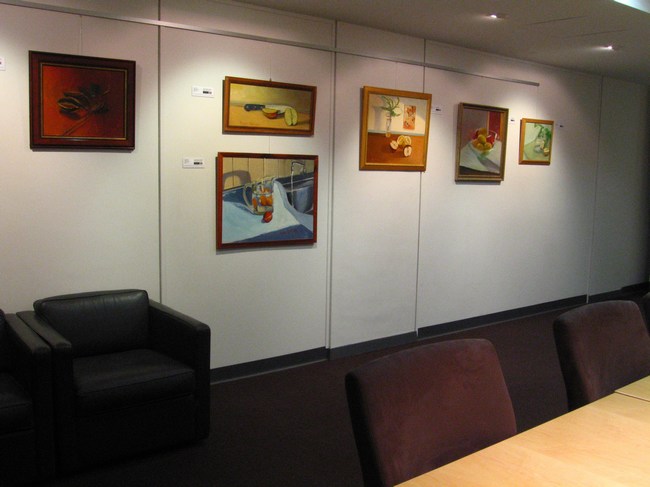 Recently we installed our 30th exhibit in their offices on Pirie Street, in Adelaide's CBD. Amazing - they have enjoyed thirty different styles of art during the past 10 years; we rotate their art every 4 months. Here are two photos from their current exhibit.


Adelaide's Air Apartments
have it all: situated so close to the city, a 5 minute walk across Adelaide's southern parklands will get you there, yet there's no noise from the traffic. Its 8 penthouses have open-plan living areas that offer stunning 270-degree views, with swimming pools, spas, saunas, gym, tennis court and cinema.
But what worth are luxurious apartments if the entrance area makes you feel like you've entered a hospital? When one of the air apartment's residents called ART LOGIC for help the entrance hallways of this luxurious apartment block looked rather drab.
We had a lot of fun installing art in their entrance area. We chose an installation by Sandra Cross, made of multicoloured silk ribbons with Chinese inscriptions to liven up their first entrance area.
In the main entrance area we installed some elegant swans by and Andreas Sobik; a painting which is 4.3 m long. To complement the swans we added the bronze sculpture 'Reach' by John Woffinden.
Then we sat down and enjoyed the difference.
Adelaide Law Firms and Art
Over the past 10 years we have worked with many law firms. Below you can see some of the exhibits we have curated for them.

Finlaysons is one of Adelaide's leading law firms. This exhibit plays with the Australiana theme. The painting by Anne Newmarch depicts an Australian desert scene, with a car wreck rusted and forgotten as its central focus. The Mosaic sculpture is of Australia's beloved dog and Ute symbol. The other the artist has added some further essential elements: an icebox with some stubbies (beer) and a lawnmower.
6 months later ART LOGIC curated a more if serial exhibit. Hanging on the wall glass art that is lit up with LED lights by Frank Bauer accompanied by glass masks blown by glass artist Randall Sachs.