Services
For Art Sales: we work with you to create the environment you want. Investing in art requires knowledge, expertise and imagination: click the 'Art' tab above and view our collection virtually, or make an appointment for a private viewing at our ART LOGIC gallery. Contact us by email or phone and discuss possibilities with our experts.
For Art Rental: we bring a gallery to your office or home. Enjoy fine art for a fraction of its retail price. Rented art is rotated: every few months we create a new exhibit for our clients. Corporate and private spaces become fun, dynamic environments - click the 'Rent Art' tab above to find out more.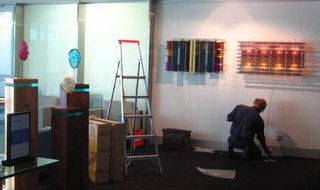 For Promotional Corporate Videos: we create professional videos that communicate a company's strengths in a dynamic and exciting way. This powerful tool enhances the business' profile - click the 'Videos' tab above.
For Live Art Events: we make art come alive. Our artists will intrigue your clients by creating live art at special events and functions.
For Art Hanging Systems: We install art hanging systems for our clients though our sister company HANG LOGIC - click the tab 'Art Hanging System' from the drop-down list at the top of this page to read more.
Painting by Graham Shaw installed using Hang Logic's wall fixed Click Rail and a perlon hanging wire surrounded by sculptures by Gerry McMahon