bought art
Owning an art gallery, curating art exhibitions, commissioning art, selling art worth tens of thousands of dollars and trying to order artists around are run-of-the-mill activities for me. That makes me forget how what I do is typically viewed.
An exchange I had the other day:
Client: "I adore this painting. I've gone through your website almost daily for the past few months and I know that this is the piece…but it's just too small for our dining room."
Me: "No worries, just commission the artist to paint you a larger one using this as a maquette."
Client: "But I couldn't, I could never do that. That might be normal for you, the idea of doing that is far too frightening for me."
reminded me that many people are scared of art. Viewing art can create immense joy, yet nevertheless the art world is an intimidating place to 'outsiders'. It's populated by devotees and afficionados who seem to possess esoteric knowledge gleaned from a lifetime of art immersion.
And I remembered the research that suggests that most people feel rather apprehensive about the idea of entering an art gallery. They fear that they may be unveiled as a know-nothing, or an uncultured charlatan.
To me, art is about adventure, deep attraction and when it's the right piece for me, ecstasy. My Gatsbyian access to the world of art gallery openings has me conclude that most people pretend they like the art, and act as if they themselves and not the art art on display... often there is a camera lurking. I also detect the 'regulars' who hover around the goodies table, guzzling free wine and stuffing napkins full of gourmet bread and cheese into their bags.
I'm probably a lousy salesperson, because when someone comes to our gallery to view a piece, I tell them: don't buy it unless you love it. Does it give you a tingling feeling in the depths of your belly? If it doesn't, keep searching."
Here is some artwork that one of our long-term clients has bought over the years. I know she adores these pieces; they make her heart sing.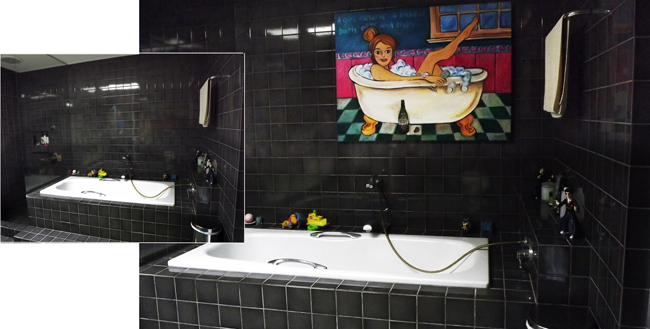 Not many people put art in their bathrooms. The advantage of it: one look at look at this painting and you want to pour yourself a glass of champagne and soak and relax.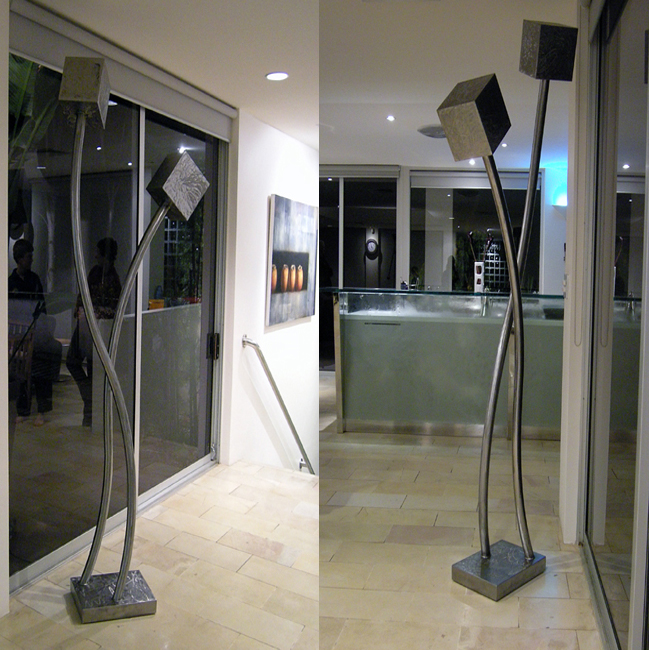 Does this sculpture make you smile?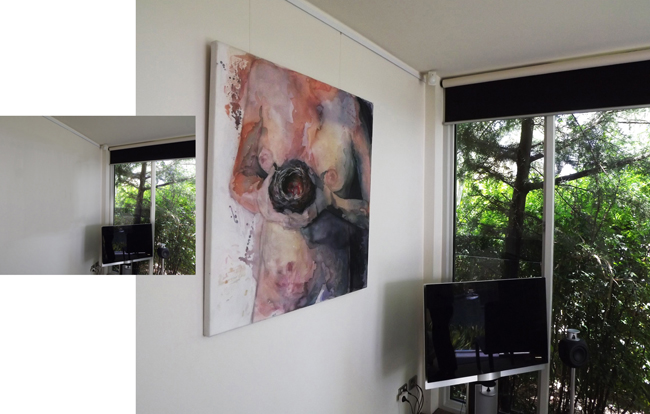 This is a marvellous painting for a bedroom: a nurturing nest amidst sensual amidst sensual breasts.
The above kind bought all 3 pieces at exhibitions we staged, one in our own gallery, one in a client's office and one in a private home. She needs to see the art live to know that it touches her deeply.
Then we have other kinds of clients. One client bought a dozen or so pieces from us unseen. He told me he looks through our website regularly; whenever he needs to relax at work. Seeing the artworks online enabled him to know exactly what he wanted. He sent me a list and asked me how soon we could deliver them.
I suggested he come view them in our gallery. He refused. I was treating delivering the artwork to his house, of course he would change his mind.
We delivered them, he took a good look at them and said: perfect, exactly what I wanted.
Unfortunately, his house burnt down a few years after that. So he ordered another dozen or so pieces from us, again unseen… And again they were just perfect.