A White Fella in the Red Centre - Artist Spotlight Alex Toyne
I spent most of my childhood growing up in the remote Aboriginal communities of Central Australia. When I was four my parents moved the family from Melbourne to the red centre. They moved to a place called Three Bores. Here we lived in an unpowered caravan on the bank of a dry river bed. My father has always been active in community development, and my mother was in the process of becoming a teacher. I was the only 'white fella' student at the local community school which was a few silver bullet caravans. Life was full of climbing river red gums, and playing with the other kids at the school, and I was also very much included and spoilt by the local indigenous women who gave me my first taste of many bush foods including "sugar bag", honey made by native bees.
Alex Toyne –five years old at Utopia school, early 80s.
After a couple of years at Three Bores we moved to Yuendumu, an Aboriginal community 300 km North-West of Alice Springs. This place was to be our home for the next eleven years.
Alex Toyne being painted up at Yuendumu school for a public corroboree at Easter
This was a very exciting time in Australian Aboriginal art history. In the early 80's acrylic paint was starting to be used by Aboriginal people in remote communities. The Yuendumu Doors was one project instigated by several of the elders in Yuendumu. In this project, doors on the school, on public buildings, and in peoples' homes were painted with traditional designs.
The Yuendumu Doors
This was done to preserve the knowledge of the elders to pass this on to the younger generations. The house we lived in at the time had the front door painted as part of this project. It was a surreal experience to see these doors years later in the Adelaide Museum, and all the memories and connections they contained came flooding back.

Life on community was governed by the skin name system (kinship system). There are eight male skin names and eight female skin names. Every member in the community has a skin name and this name explains where a person belongs within the structure of the community. Each skin name is also connected to certain parts of the country, and has authority over the Jukurrpa (dreaming stories) associated with that part of the land, and with the art work which depicts that story. An artist is only allowed to paint their skin name's Jukurrpa.

Yuendumu school would send kids on "Country visits" where people, indigenous and non-indigenous, were grouped according to which "Skin name" they possessed, and taken out to relevant "Country" locations around Yuendumu for the week. We slept out under the stars, burnt off large areas of spinifex, got painted up and danced, and listened to the stories.

Alex Toyne holding a goanna on a bush tuckering trip near Yuendumu
The school also had a strong bilingual program which also included attending Warlpiri language classes but the majority of my Warlpiri teaching came from the other kids who taught me how to swear among other things. As a young person I was also included in hunting/gathering trips and learned about bush foods. My favourite one was a small tangy black berry called manakiji (Carissa lanceolata). My parents also took my brother and I out on regular camp outs in dry river beds. It was a magical experience falling asleep under the Milky Way, which was crystal clear moving across the sky. I soaked it all up until it was time to go away to high school.
Alex Toyne's ninth birthday party in Yuendumu
At the age of 11 I was sent away to a Victorian boarding school, and only returned to Yuendumu during the school holidays. This was the hardest thing I have ever experienced. While I was away at boarding school I gravitated towards art subjects. I found art was a very effective form of emotional survival, and I continued to do art back in Yuendumu on my return and recovery. When I eventually returned I was relieved to be back soaking up community life, and the red sandy desert. I found solace in going for long walks around the community, and along many of the unsealed roads. Somehow my push bike also survived a few off-road expeditions through the mulga trees and prickles.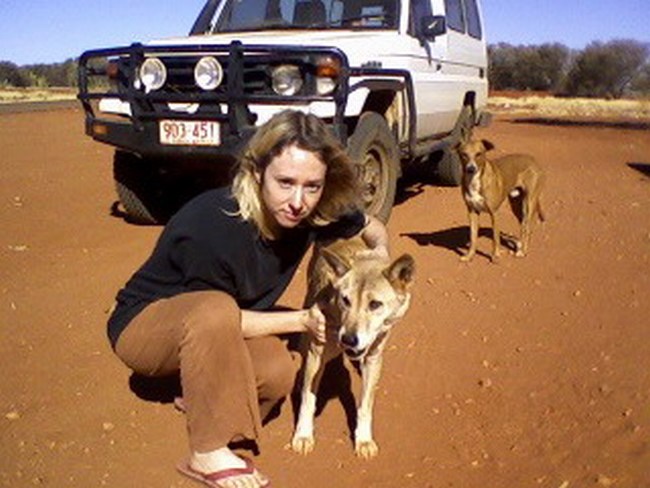 Ginger and Alex
I moved to Alice Springs to study art at Centralian College at the start of 1994. I lived with two sisters I had grown up with in Yuendumu. They were very sociable young women, and it was a house where you didn't know from one moment to the next who would drop in for a visit. I would walk to college, spend all day there drawing and painting, then walk back again. Alice Springs is small enough to get around without a car, and walking everywhere became a favourite ritual. I enjoyed the direct interaction with the town and its rocky hills.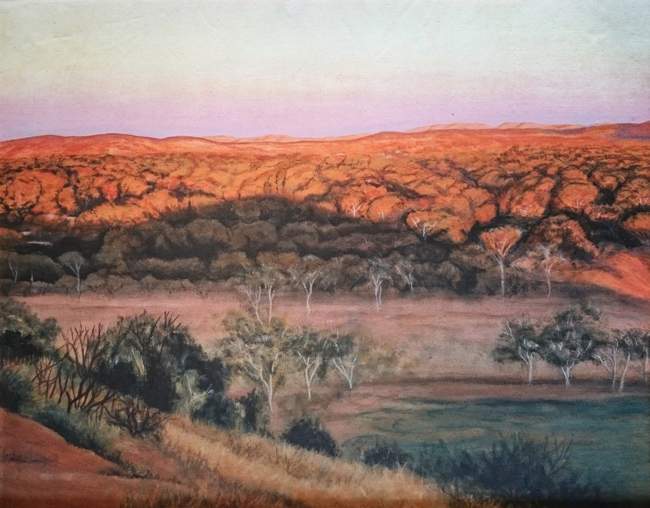 Evening Valley
Sometimes a car would pull over with some locals I knew offering me a lift. I loved small town life, and it felt like the town knew me and vice versa, and a comfortable sense of belonging grew.
I loved going to art school, especially for the practical subjects, and our drawing class often went on bush trips to draw the surrounding country. I look at my old landscape drawings today and have a strong sense of connection to the places.

I could always feel the country give me a shot of life force
To visit a place is to know it, and there is an exchange of energy that occurs, and once there, you are no longer strangers and exist in each other. This is what the Yuendumu elders were trying to teach us during the "Country visits". I lived in Alice for many years, making full use of the surrounding countryside, often to walk the dog, or to escape for some solitude, and I could always feel the country give me a shot of life force. For me the Central Australian Desert is a place of healing.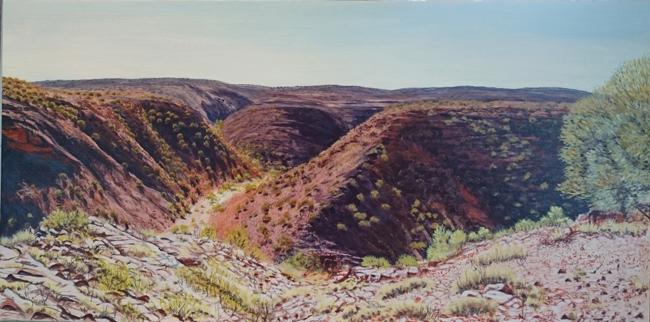 The Central Australian Desert is a place of healing

When my partner, who moved to Alice in 2006, went to live and work in Yuendumu; I had an opportunity to return to the community which has meant so much to me. This led to a great conflict within me. On the one hand it was amazing to reconnect with the people, and country I know and love, and on the other hand, as an adult, I became acutely aware of historic and ongoing challenges Aboriginal people faced living on their homelands in remote settlements. The intergenerational trauma from colonisation, and ongoing threats to culture came sharply into focus. I realise with hindsight that I had been given a great gift. I have been given a different way of seeing the world, a world of strong connections to family, to community, and to Country. I had been given the opportunity to experience an ancient culture, a culture which still has so much to offer.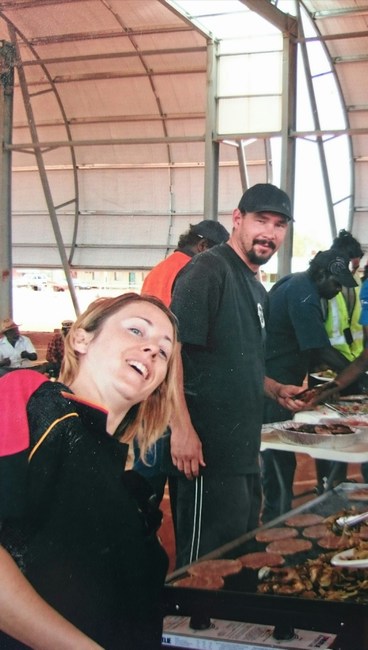 A Community BBQ

I followed my partner to Adelaide in 2010, and continue to feel the strong presence of Central Australia in my art. Through the medium of painting, I am able to bring Central Australia closer, and maintain a very special bond. I invite viewers to feel included in this story and hope that the presence of the land comes across to them in my work.