Art Commissions - Paintings and Sculpture
Commissioning an artwork

From the first contact right up to delivery of the sculpture ART LOGIC, the client and the artist worked closely together to translate the idea interaction. The commissioning process remains the same, whether it be a large or a small, a private, corporate or a public painting or sculpture.
Hello Jacqueline
Sorry for the delay. I finally got around to taking some pictures of Fierce in its resting place. Fierce has enhanced my garden. All my family and friend love it. Thank you to you and Jason.
Angela Pellegrino
14 July 2015 Jamberoo, NSW, Australia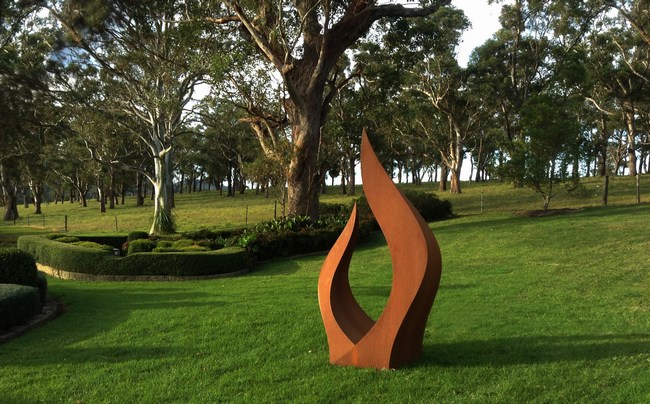 The commission process
Which artist can make your artwork?

You have an idea : choosing the right artist to translate your idea into reality is essential. ART LOGIC works with about 60 artists and we will advise you which artist matches the style you like and uses the materials such an artwork requires.

What information do we need from you?

We need to clearly understand your expectations:
• What size should your artwork be?
What materials would you like the artist to use? A painting can be painted using different kinds paint :oil paint, acrylic pain, watercolour, spray paint. We can suggest the best medium. A sculpture can be made of resin, bronze, aluminum, and silver.
• How much should it cost?
• By when would you like to have it ?
If you've seen something similar to what you would like, take a photo of it. Or if you know which colour combination excites you, find examples of it and pass them on to us.
If the painting or sculpture is of a person or object that cannot be seen in person it is helpful if you can provide photos from the front, side, three-quarter, and back.
You receive a quote for your commission from us.

ART LOGIC will give you a quote for the final artwork. The quote explains what you shall receive upon completion.
If you are commissioning a large bronze sculpture we will first provide you with a maquette (a small model). We will then calculate the quote on the basis of this maquette.
First payment for your commission … then painting or sculpting begins

After accepting the quote, we request a 25% down payment, and then the artist will begin.
If the painting or sculpture is of a person able to model we will organise the sittings. During a sitting, we will take measurements and photos
The artist may also hire a model to pose in the position of the sculpture so he or she can take photographs and measurements to assure accuracy. For large sculptures, a 2-foot maquette will be sculpted before the actual size sculpture is created.

You receive the artwork and pay the remaining balance

Once the artwork is completed, we will send you an invoice for the remaining balance, and when your funds are in our account you can pick the artwork up from our gallery, or we will send it to you.
Installation
Installation of your art commission?

If your sculpture needs to be installed, or you would like us to hang your artwork (we work together with Hang Logic that installs art hanging system is) we can organise professional installers to carry out the installation. We will invoice you separately for the installation.
And that's it … the exciting commissioning process.

One last thing, your commissioning process may be slightly different because each piece and each client is unique.