Art Classes
Adelaide Art Classes - drawing & painting for adults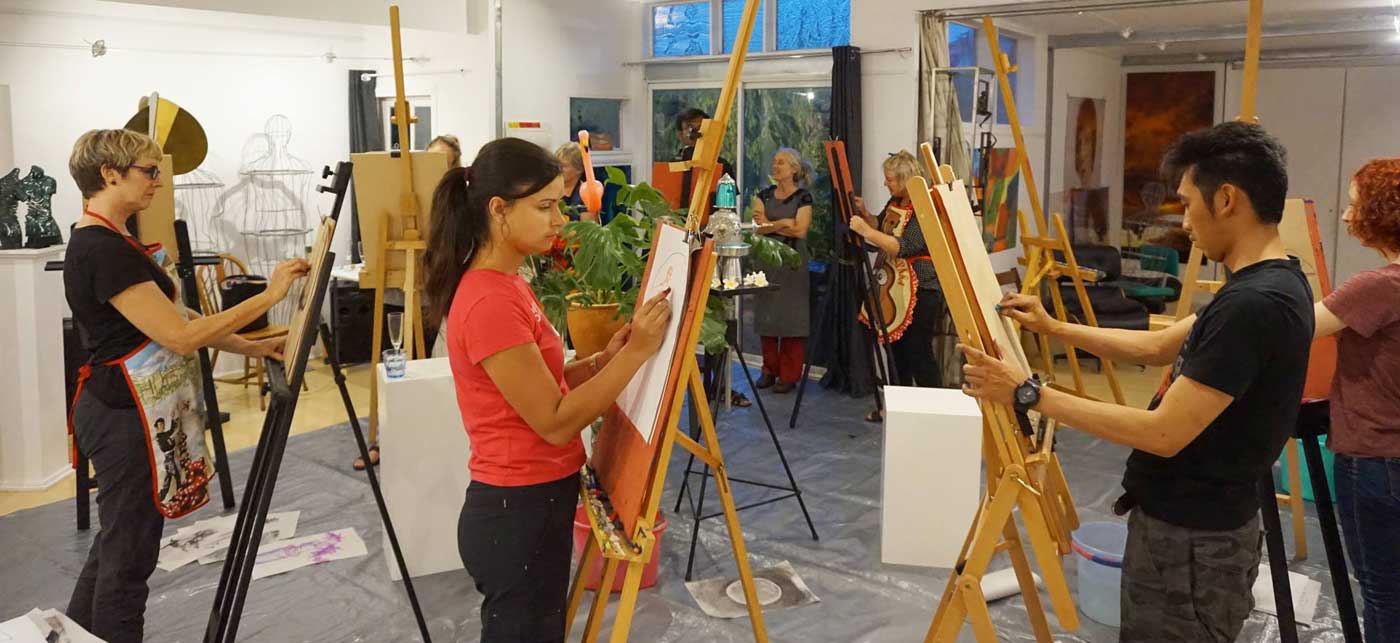 Upcoming Art Classes in Adelaide, Largs North @ Art Logic's gallery:
Drawing & Painting Pets and Animals - 11, 18 & 25 April (6.30pm-9pm)
Draw, Paint and Sip - 2,9,16,23,30 May & 6 June (6.30-9pm)
Portraiture Series - 2,9,16,23,30 May & 6 June (6.30-9pm)
Watercolour Painting - 4,11,18 and 25 of May 2022 (6:30pm - 9:00pm)

Drawing & Painting Pets and Animals
11, 18 & 25 April (6.30pm-9pm)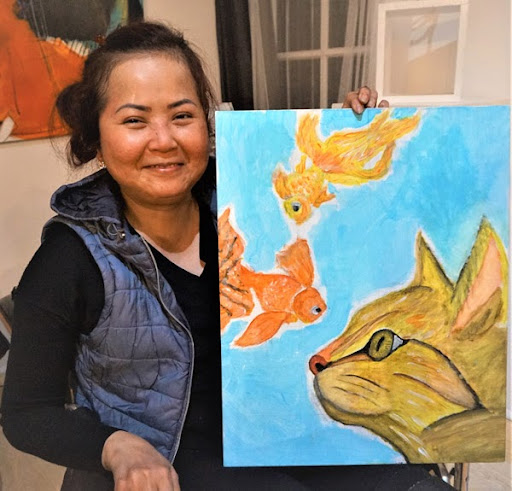 Would you like to learn how to draw/paint your pet?
Dates:
Monday - 11, 18 and 25 April 2022 - 6:30pm - 9:00pm
@ Art Logic's gallery in Largs North
If you miss an evening, you can make up for it in another series.
Cost: $190 includes all materials & a free set of paintbrushes and a canvas.
Do you adore animals? Are you a proud pet parent thinking of transforming your pet photo into a beautiful piece of art?
And are you looking for something fun and memorable to do in the Easter holidays? Perhaps with your daughter or son (15+) or partner?
This series will assist you in gaining the right set of skills to transform your idea/ photo into a sketch or painting. You will experiment with different mediums and techniques, under the guidance of our skilled and supportive teacher Dieni.
Create beautiful portraits of your special friend(s) that you can enjoy … fur-ever!
Email adelaideartclasses@gmail.com.to book.
'Draw, Paint and Sip' Art Classes for Beginners 2022

Our next series - 2,9,16,23,30 May & 6 June (6.30-9pm)

If you miss an evening, you can make up for it in another series.
To book or find out more

- email adelaideartclasses@gmail.com
or call Jacqueline 0432 924 305
These sessions are a relaxing haven away from busy life; lose yourself in the creative buzz of the Art Logic Gallery. Perfect for budding artists of drawing/painting who wish to develop their skills.
Classes are held on Monday evenings @ 6.30pm-9pm and run for 6 consecutive weeks at Art Logic's gallery in Largs North (near Semaphore). We are 4 minutes walk from the Largs North train station.

$330 if you book all 6 classes
Includes all materials plus a free set of brushes, palette knife, a canvas and sparkling wine!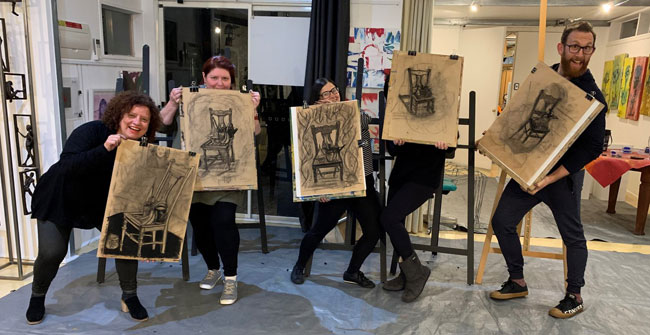 In these classes we support our students in developing their skills and techniques. Apart from mastering materials such as graphite, charcoal, pastels and acrylic paints, students discover and experiment with mixed media. Every class has a different focus, such as still life, sculpture, landscape, animals, faces and the human body.
Our art classes are run by successful Adelaide-based artists who have been trained as teachers and know how to mix art with fun. They combine the whimsy of happy hour with the discipline of an art class. Some students find them meditative and others love that clases bring them outside of their comfort zone. It's fun to spend an evening with like-minded people.
In these classes, students gain a deeper understanding and appreciation of art, and begin to develop and explore their own unique style of self-expression.
Charcoal, paint and pastels can be messy, so bring a protective apron (there will be a few available for those who have come straight from work), or wear washable clothes!
Email adelaideartclasses@gmail.com to book. If you miss an evening, you can make up for it in another series.
Portraiture Series


2,9,16,23,30 May & 6 June (6.30-9pm)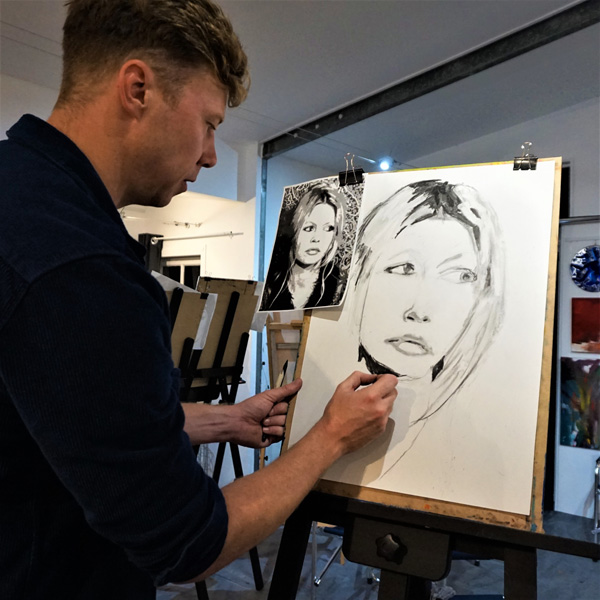 This series is all about taking the complexity of portrait drawing down into simple steps you can take to develop your portrait drawing skills! The skill lies in drawing out the key shapes and understanding and reflecting the simple proportions. Each student will be given their own easel.

Portraiture has fascinated artists throughout the centuries - it's more than just creating a likeness, it's about capturing the person's character and spirit.

Learn how to draw and paint humans from different angles and in different positions under the guidance of lovely Lizabella. You'll also work with a live model.

You'll explore using using pencil, charcoal and acrylic paints. You'll learn different techniques and discover different styes of portraiture from realist to abstract. You will gain a deeper understanding and appreciation of portaiture, and begin to develop your own unique style of self-expression.

Dates:
4 consecutive Thursdays - 5th, 12th,19th and 26th of May 2022 from 6:30pm - 9:00pm
@ Art Logic Gallery in Largs North
If you miss an evening, you can make up for it in another series.

Price: $220 - includes all materials plus a free set of brushes, palette knife & a canvas.

Email adelaideartclasses@gmail.com to book.

Watercolour Painting




4th, 11th,18th and 25th of May 2022 (6:30pm - 9:00pm)

@ Art Logic's gallery in Largs North
Cost: $220 includes all materials - you get a free set of paintbrushes too.
Email adelaideartclasses@gmail.com to book. If you miss an evening, you can make up for it in another series.
Awaken your inspiration and turn your ideas into reality. With some expert guidance you can capture emotions so beautifully with watercolours!
In this series, you will learn how to create a watercolour composition with a variety of hands-on techniques. This class suits beginners and intermediate levels.
Our skilled and passionate teacher Tamara will teach you how to control transparency, create gradients, and some unique ways to create amazing effects with different brush strokes.
You will discover how to apply watercolour paints with masking fluid, making tape, cloth and brush application.
We will explore different achievable effects such as layering colours, blending and pulling. This gives you the essentials to create entrancing shapes and strokes with your brushes.
We will see how watercolours react to different types of paper and combine watercolours with various mediums, for example mixing in ink, wax and masking fluid.
We will incorporate pencils and surround the watercolour with acrylic paint to create a contemporary feel.
It's so much fun to explore creating with a group of like-minded people.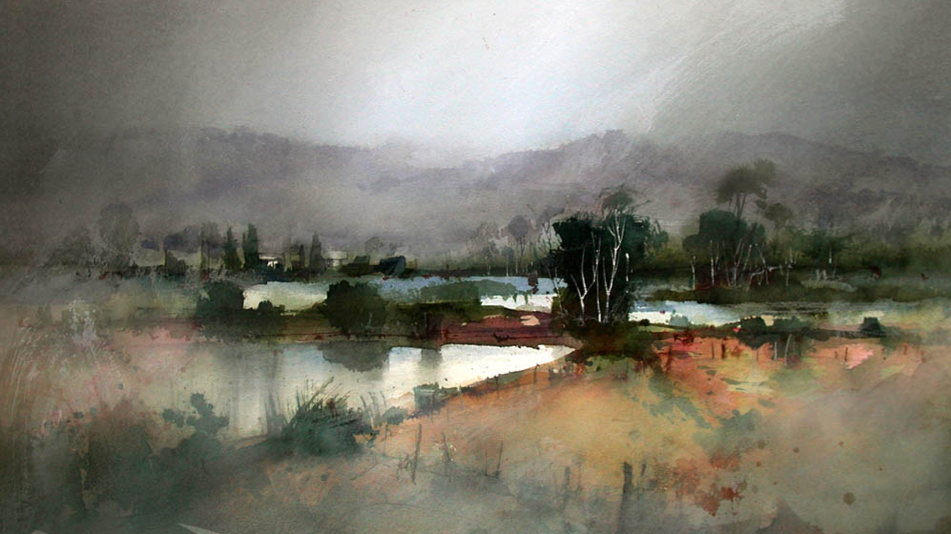 Drawing Class

We run this class for groups of 10-12 persons - it's perfect for birthday parties.
You will need
Pencil (2B, 4B)
Eraser
Colour pencils set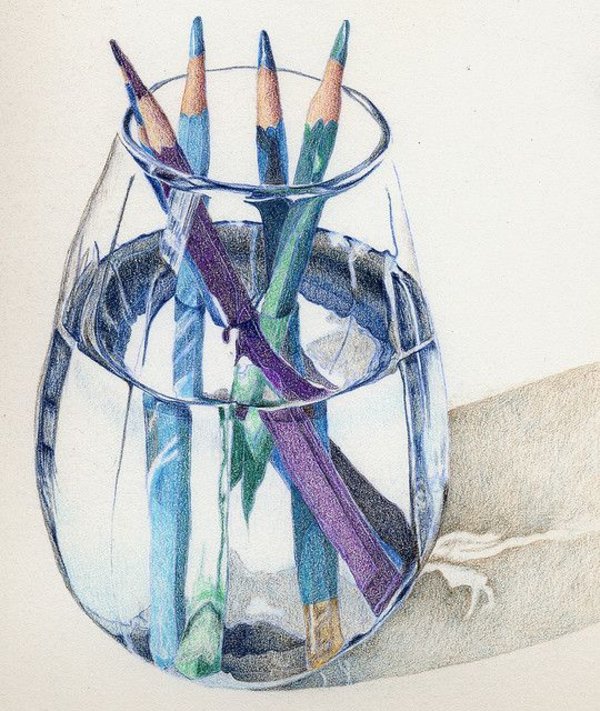 We started the first evening of this series with some Still Life Drawing using charcoal. Students chose an object in our gallery that appealed to them and then got right into it.
Some students in the art class chose nature - they sketched plants we have in our gallery.
Scott chose a sculpture created by one of our artists (Our daily Bread), and below is Doreen just starting to draw a vintage handbag with its flowing silk scarf.

In another class our art students moved on to colour, playing with shapes and forms. Painting with like-minded people is fun.

Isn't the blue in Katie's below painting the most amazing colour. The oranges and yellows above bring it to life even more.

Adrienne chose to explore applying paint with a palette knife contrasting this with other sections of her capainting whre she applied the paint with brushes.
Sam continued with her plant theme but this time placing them in water; thereby creating a beautiful waterscape.

Scott explored greens and blues.
Drew painted this beautiful tree surrounded by birds in flight. Cynthia told us it reminded her of the feeling you get when reading the story of 'Le Petit Prince'.
Our art teacher Cynthia is always on the move!
It's hard to catch Cynthia standing still!
She has spent her entire professional life immersed in the arts. She began as a performer and live installation artist, in Vienna, Austria. She has performed all throughout Europe and in fact is still called back both to partake in exhibitionsand perform in live installations twice a year.
'This Distant Land', oil on canvas, 3x 400x1220 by Cynthia Schwertsik
Painting has long been Cynthia's obsession, first discovered when she was a set designer. This awakening led to a deeper understanding of visual arts.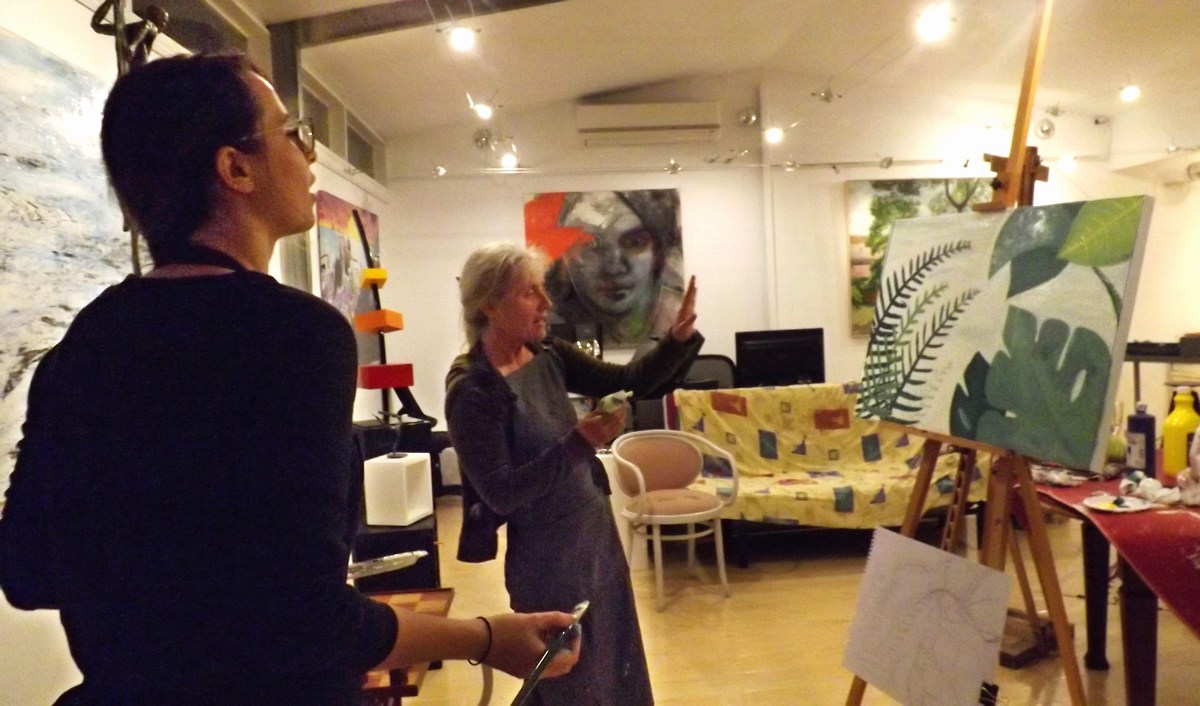 Cynthia gives hints to make this painting even more amazing
In 2012 Cynthia immigrated to South Australia (her partner, also an artistd performer, is an Aussie) and decided to add an Australian degree to her cap of feathers, obtaining a BVA degree at Adelaide Central School of Art. Since then she has become an expert in teaching a vast range of drawing and painting techniques.
Cynthia getting paint for a student in this life drawing class
Cynthia loves to help students try new things. She encourages students' excitement and enthusiasm, and supports them in exploring their ideas, as well as teaching them the techniques to help realise their artistic dreams. They can count on Cynthia being there to give them just what they need if they ever feel stuck.
Cynthia explains a technique to Emily
Art teacher Greg has a great sense of humour!
Our art teacher Greg talks about himself and his passion: "I've drawn and painted for almost as long as I can remember and always enjoyed it. After a solo exhibition of paintings in 1971 work and life intervened so that I was unable to spend much time painting again until some 15 years ago when I had more time to indulge what has remained a life-long passion. I work within the classical tradition, attempting to grasp the magic that light plays out as it affects different forms and surfaces and to re-present our surroundings in a way that makes us appreciate them differently - particularly in relation to their colour, form and vitality. I work mostly in oils but also in charcoal and pencil with my main areas of interest being still life, portraiture, landscape and life drawing.
Since I retired, I have been working as an artist. Prior to that I lectured in International Politics at Adelaide University specialising in Asian and particularly Chinese politics and economics. I've had solo exhibitions at several galleries in Adelaide as well as Hobart and Perth. I work from my studio at home in Cumberland Park. Painting is an immensely satisfying experience. It also as requires intense concentration and always remains a challenge which we never master. It also generates a mental calmness which is elusive in a busy life."
A few of Greg's creations: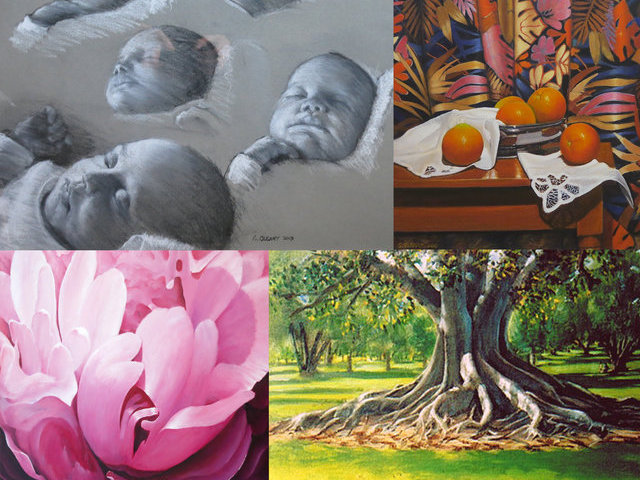 Here are some photos from our art classes:
The 'Draw Part' of 'Sip, Draw and Paint'
We often start our art classes with a drawing session. Students use pencil, charcoal and pastels to draw any object or painting they see in our gallery. I notice how differently I see what surrounds me daily when I take on this exercise.
Here's what everyone created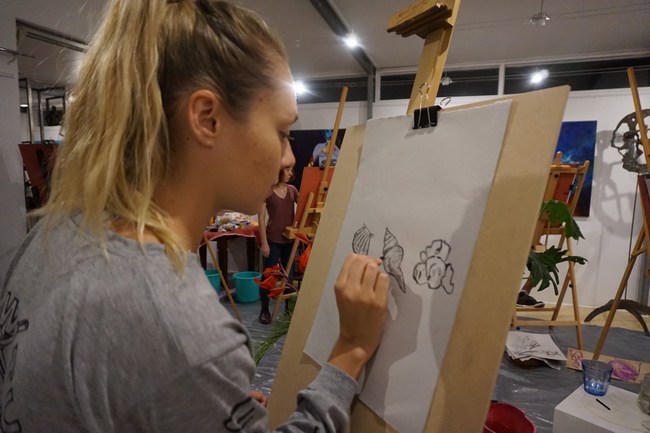 LG is fascinated by shells. Our gallery is almost a stone's throw form largs North Beach so we have lots of magnificent shells as inspiration.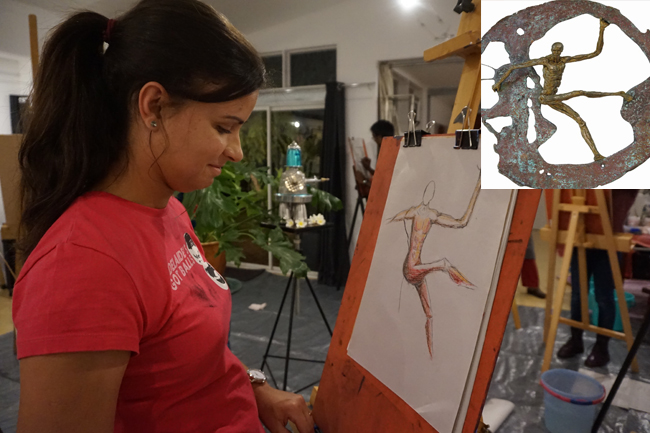 RR, an engineer form Brazil who has settled in Australia chose a sculpture by Tim Thompson that we have exhibited in our gallery as a topic for her drawing.
SB did a charcoal drawing of the plant we made the centrepiece of our display - you can see it in the left side of the photo.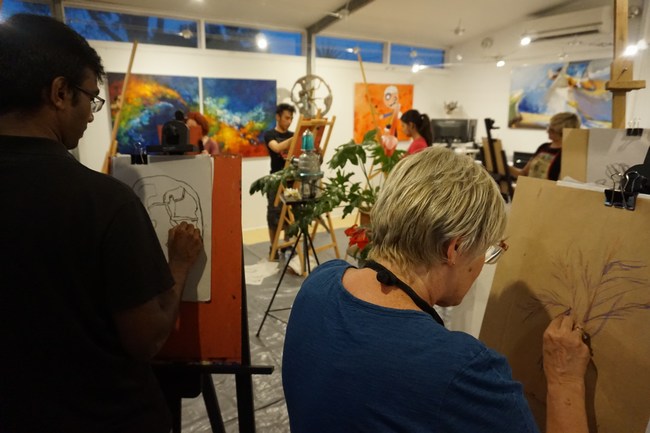 VK worked with a pencil and DR with pastels.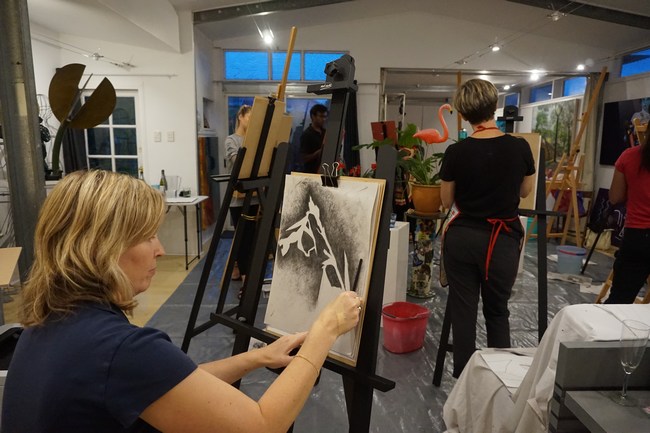 JW was inspired by the canna lilies from our gallery garden
and also by a sculpture

GB chose the funky flamingo we have in our gallery to be the star of her drawing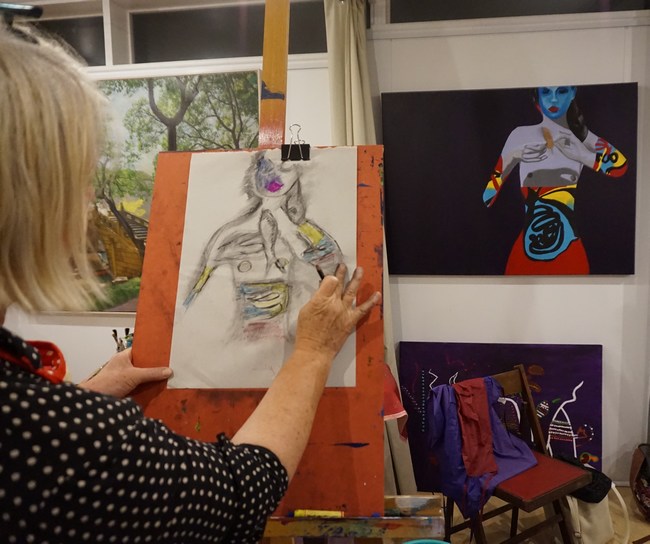 KL thought the lady in her painting should hold a fish rather than a leaf
ET giving her flamingo some pink
and here's JLC on the left adding his creation to the final lineup
Every one's different
One fascinating thing about art classes is how different everyone's chosen subjects and resulting paintings are.
We all start with the same ingredients & tools - colour, paint, canvas, paintbrushes, paper, water, rags and sparkling.
GB was inspired by Picasso to paint an improvised musician.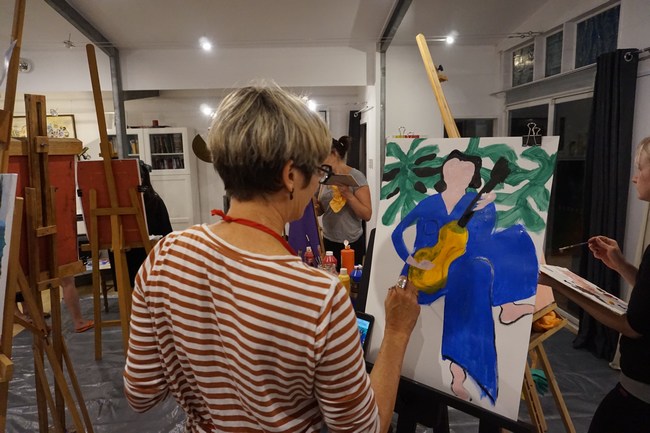 RA delighted in perfecting applying contrasting colours.

DB depicted freedom with his magnificent flying pelican (and yes, we ladies all love having a gorgeous man in our midst!)

SB was inspired by a painting by Jane Smeets that intrigues her.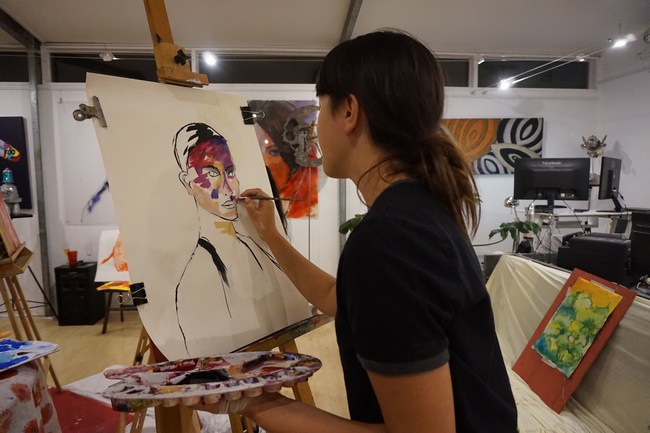 Here's the original which happened to be hanging in our gallery.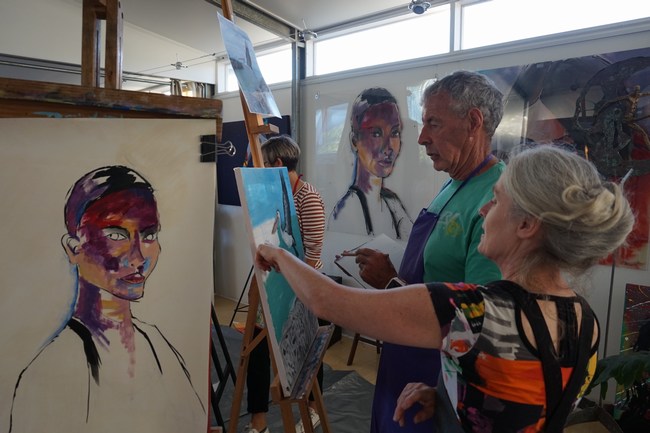 RB is a fast painter. She tackles several pieces in one class. Here she's in the midst of creating her stunning lighthouse.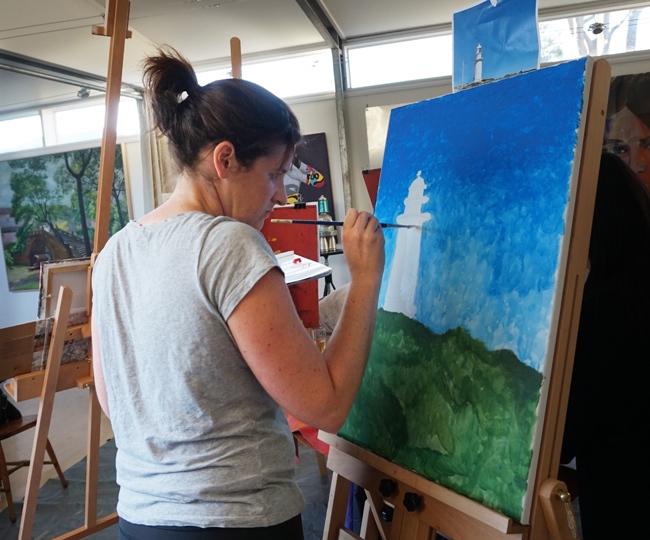 The best place to start a painting is with a piece of Emmentaler cheese!

EC is masterfully capturing a special moment in her interaction with her 4yr 0ld son.
JM created what GB naughtily called an 'orgasmic mermaid'. She's a messy painter - check out her t-shirt!
And then we lined up all our paintings so that our art teacher Cynthia could bestow endless praise upon us as well as analyse the different techniques used. What a brilliant evening.

Taking the time to appraise your artwork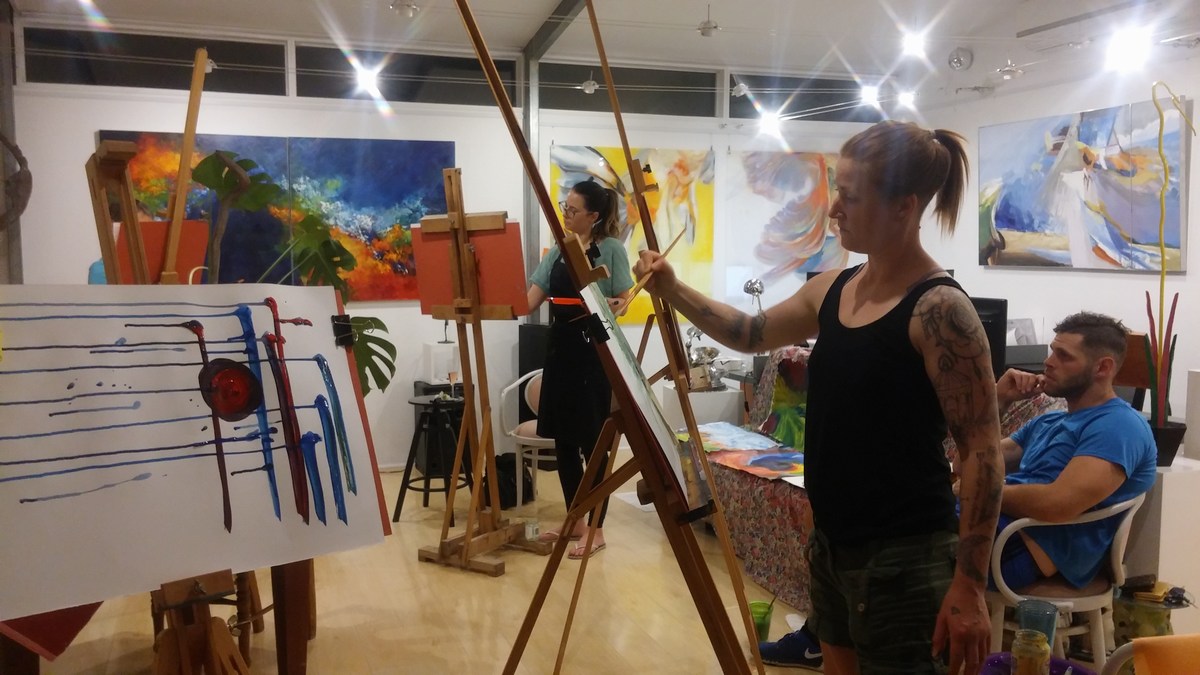 One thing that is almost as important as the painting itself is to sit back and take the time to dwell on what you are creating. Which parts sing? Are there sections that need enhancing. Do connections need to be created between different areas of the painting?
Our Art Teacher Analyses Students' Creations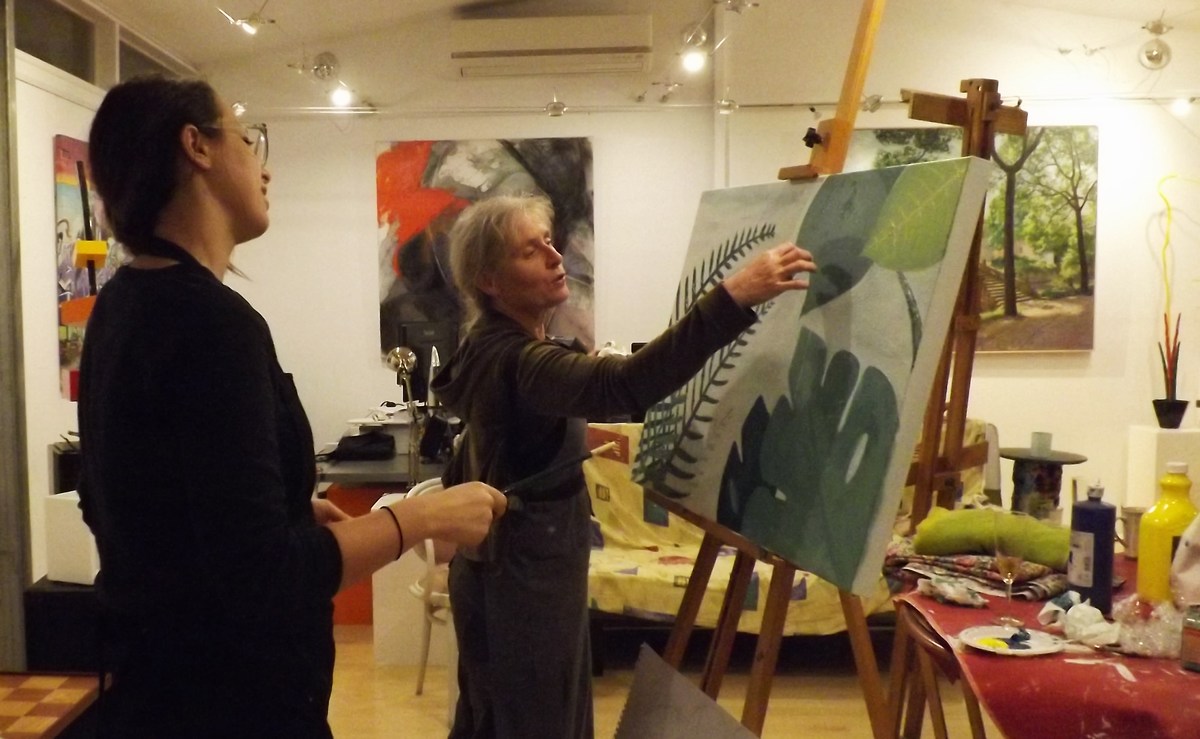 Our teacher Cynthia discusses Laura's creation with her. The piece has integrity, it reveals Laura's love of the colour green, her spirited being and her connection to plants. Together they appraise her use of colour, the artwork's texture and its balance. They explore Laura's lines - do they articulate the forms she wishes to represent, has she placed them so as to evoke a playful and intriguing rhythmn?
A Live Model For Inspiration
Archer volunteered to model - everyone capture him from a different angle: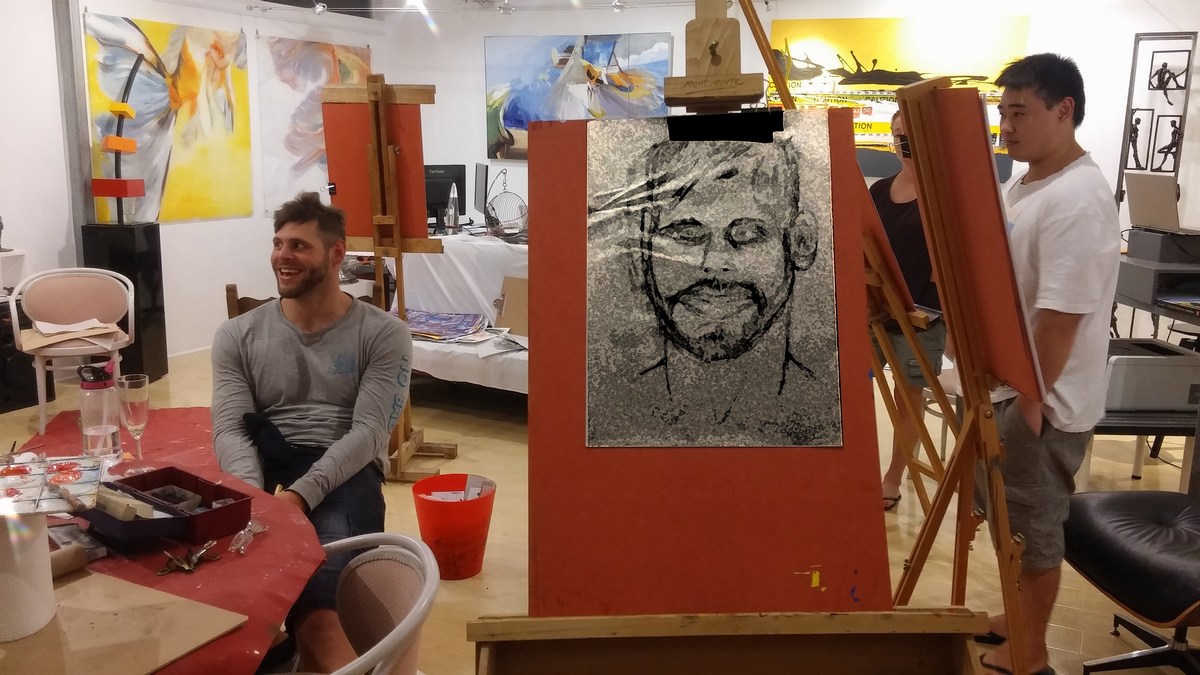 Learning Different Art Techniques
One technique Cynthia teaches is creating a small 'viewfinder' which enables you to analyse what you are most attracted to which in turn is then the basis for your artwork.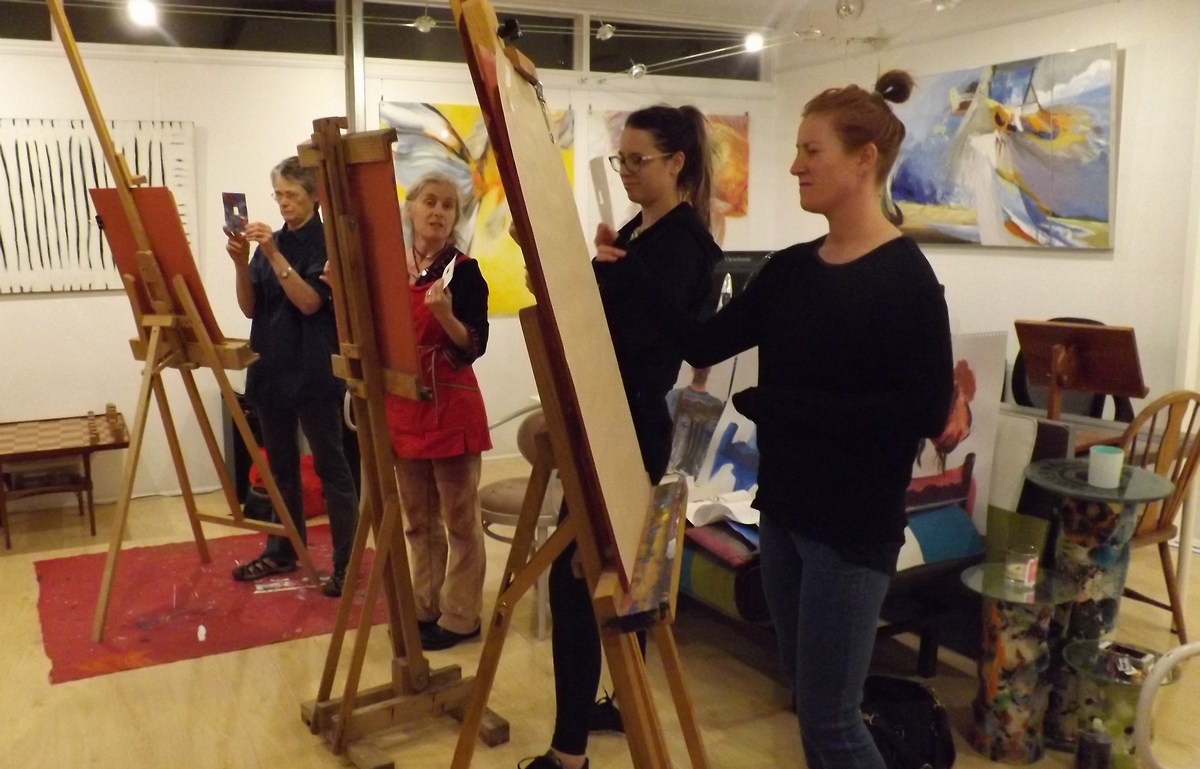 The below photo shows which selection the 'viewfinder technique' inspired Raechel and Ellie to draw.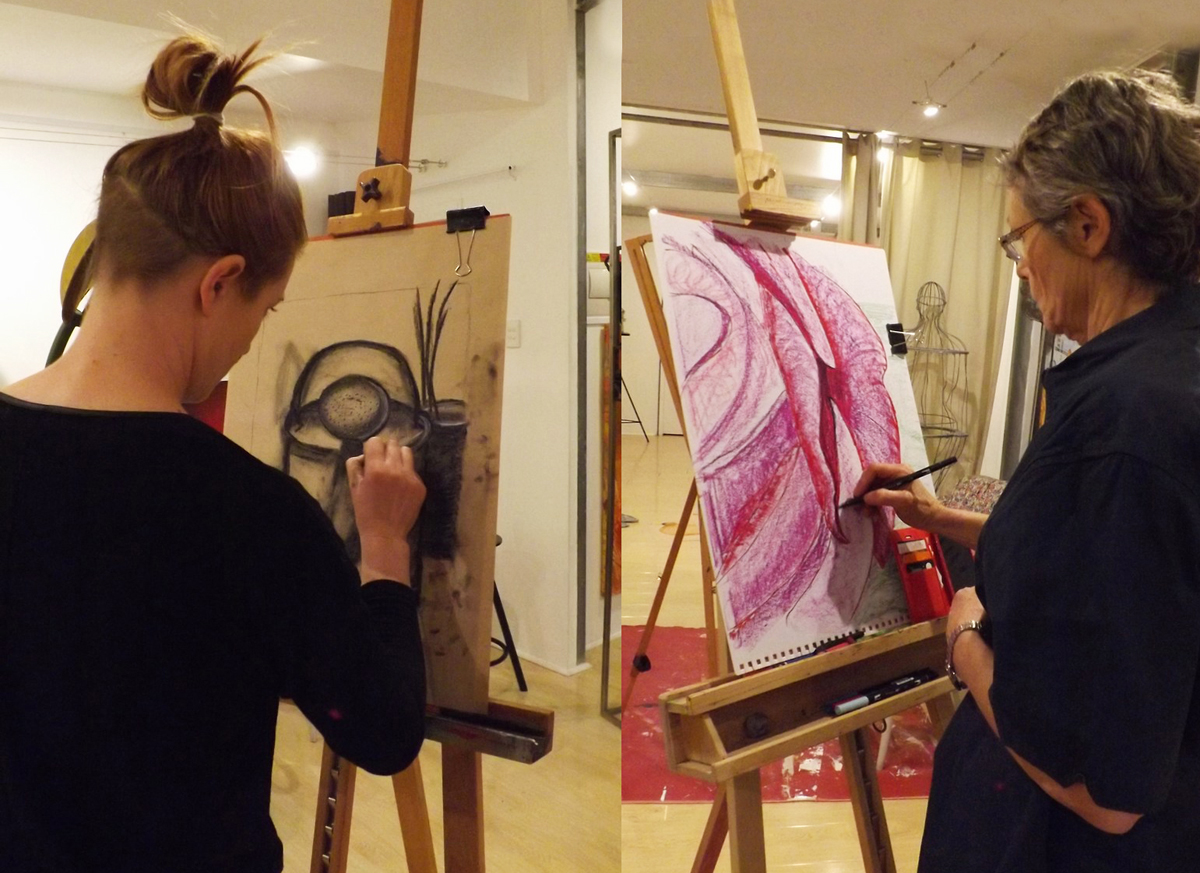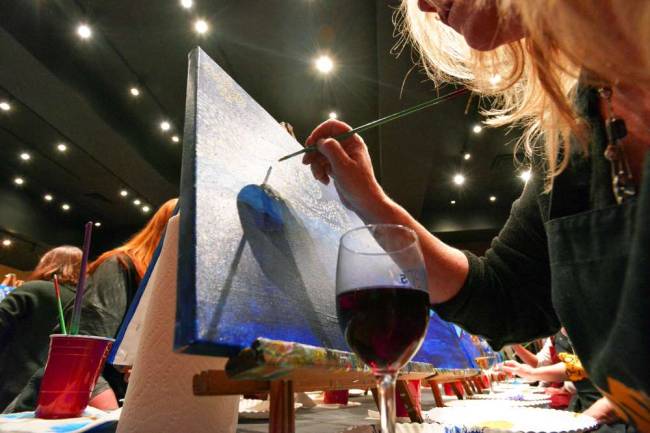 The step-by-step nature of our teaching makes it easy for you to acquire and polish your drawing and painting skills. At the end of the course, students have a pleasing grasp of form, and are able to use a range of art materials successfully. And most important of all, you leave these classes feeling motivated and enthusiastic.
'Draw, Paint and Sip' Life Drawing/Painting art classes
In this class we explore different aspects of drawing the human figure. Students develop their skills in drawing the human form (faces, the entire body, hands, feet, movement etc.) by understanding the human anatomy (e.g. shape of muscles and skeleton) and translating that onto paper. We explore the human figure using various mediums such as graphite, charcoal, pastels, ink, oil paint, watercolour and acrylic (or a combination of them).

We provide our students with both male and female professional life drawing models of all ages and ethnicities. Those times vary; at the beginning of the lesson they are shorter, and last pose is the longest. Depending on the theme of the day, the model is either be nude or clothed.

Anyone wanting to practice and excel in their life-drawing and portrait painting abilities is welcome to come to these classes.
We explore the beauty of the human figure and thereby develop refined observation skills. Students perfect the simple techniques of life drawing and learn how to release, express and mould their inner artist. Quite quickly you will become proficient in drawing/painting the human form using various mediums. In particular, you will understand how to paint/draw the human form accurately, and how to best use light and tone in expressing a character. Our tutors teach you to build up a picture of your subject's life by incorporating settings and backgrounds. By the end of this course you will have quite a few magnificent drawings and paintings to add to your own personal art collection.

In a nutshell

Because our classes are well thought out and structured they enable you to develop skills with ease. What we offer is social, creative and you get to drink wine.

Despite all the imbibing, rest assured; any chaos is controlled, both on and off canvas. Nobody gets too sloppy, it wouldn't be good for the painting. No paint fights, so far. Or food fights, for that matter. And no annoying the instructors, either.
What our classes are NOT like: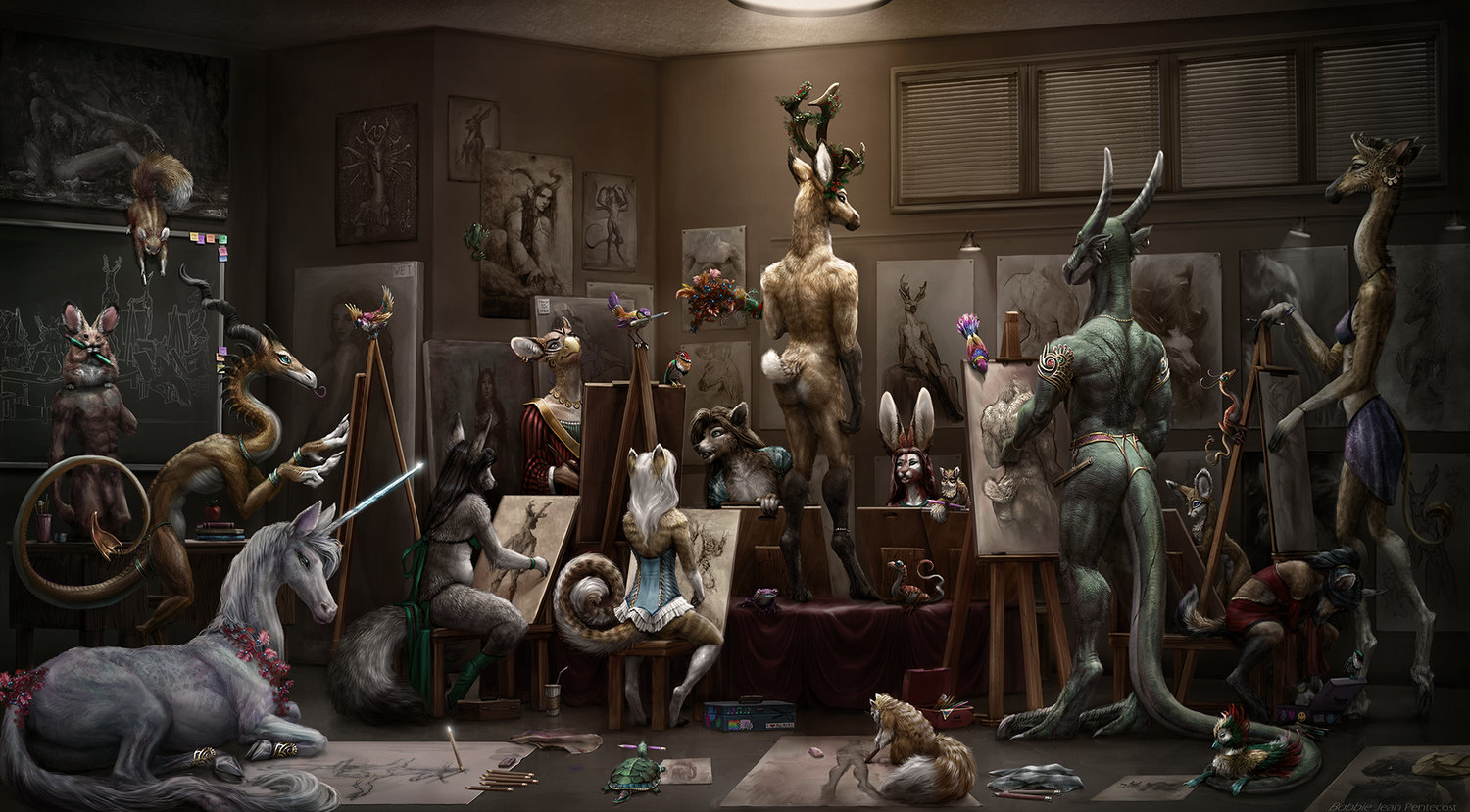 Art Materials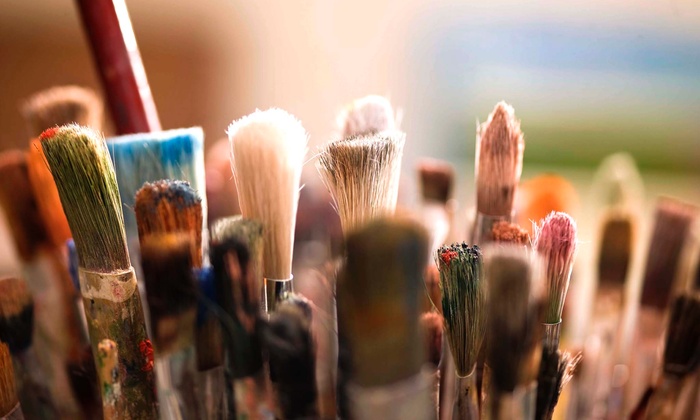 Our beginner classes include materials. We recommend that more advanced students bring their own materials.
We suggest different shops where you can buy the materials you require.