Super Accountant and Art
Some say accounting is boring. Zzzz … oops sorry, I was doing my accounts and must have …
Anyway, would that also ring true for insolvency accounting? Or would Super Accountant, aka SA, sweep down from the sky, eliminating the scourge of bankruptcy with his magic accountancy ray?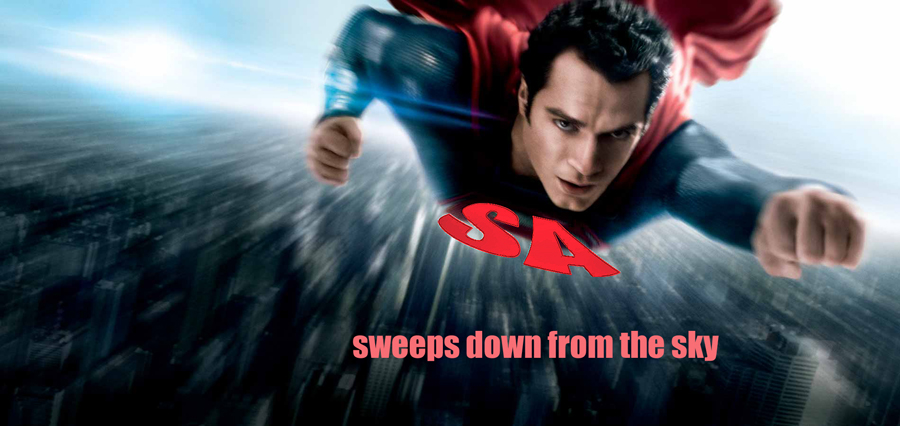 Or perhaps the relentless pursuit of the masked evildoer: debt-man, would have teenagers on the edge of their seat in the cinema, begging for the sequel: "Super Accountant: Dawn of Double Entry".
Perhaps not, but the truth can be interesting too. The standard arguments to entice school leavers to become accounts are along the lines of:
accountants help people steer organisations in the right direction
you get to make people happy by making the money
there will never be a lack of work as everyone needs accountants
you get to speak the secret language of numbers and figures
But in insolvency accounting you get to pursue the debtor as well. With a bit of imagination you really can become Super Accountant. Though your clients may be a little confused by your figure-hugging, spandex, superhero suit in the office.
At Art Logic we have a far better way to ensure that accounting isn't boring. And it's not by installing merry-go-rounds in each office, but by putting art that is stimulating and spellbinding in boardrooms and office spaces.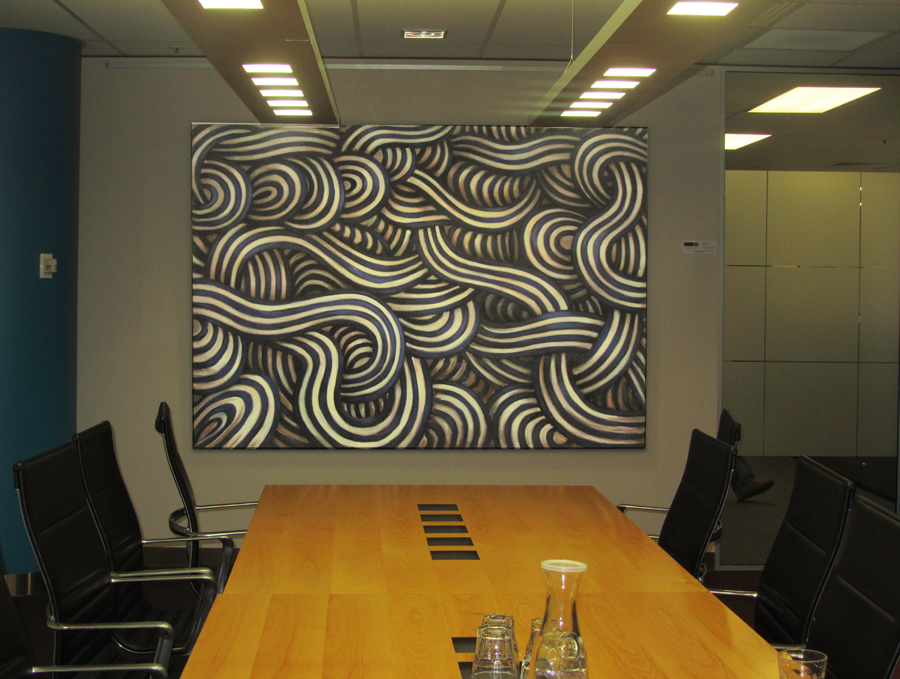 Then after 4 months get hold of some different art and display that.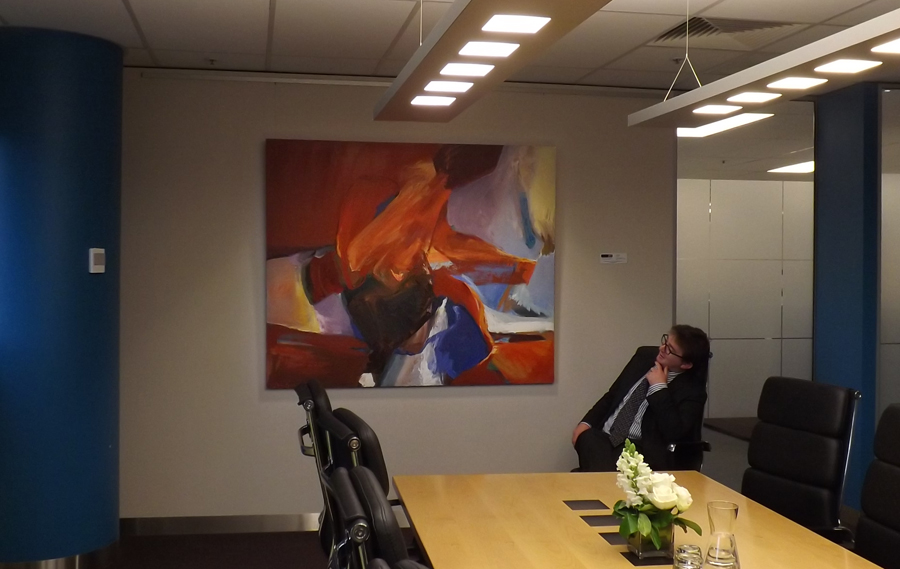 Then after 4 months … next set. (art we've installed at Ultra Lawyers - Cowell Clarke )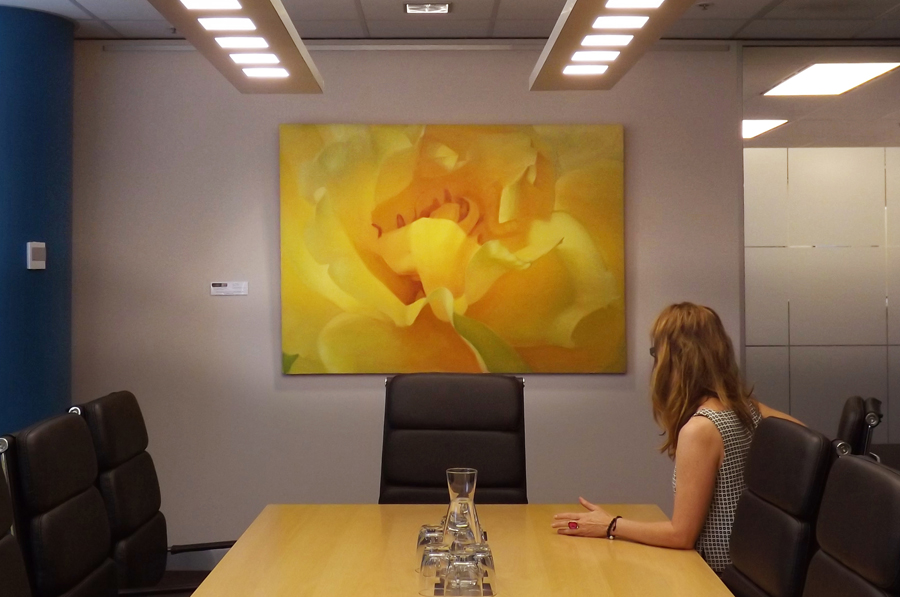 That would surprise and possibly jolt your clients. It also serves as a great icebreaker and topic of conversation for board meetings. And it's much easier than getting an Arctic icebreaker in- they hardly fit in the boardroom, consume too much diesel, and have to be scraped for barnacles.

One client told us: "whenever I get bored in one of our meetings I just look at the artwork. You know, there are some pieces you could just lose yourself in. The more you look at them the more they reveal. It's like going on a journey to an unknown place. Never have meetings been so engaging." The surprising thing is we didn't have to pay them very much to say that.

When we started Art Logic 11 years ago our very first client was BRI Ferrier http://briferrier.com.au/locations/adelaide. They are Super Insolvency Accountants with a twist. They are game to try exhibiting all different kinds of art made in South Australia. This is what they chose last time: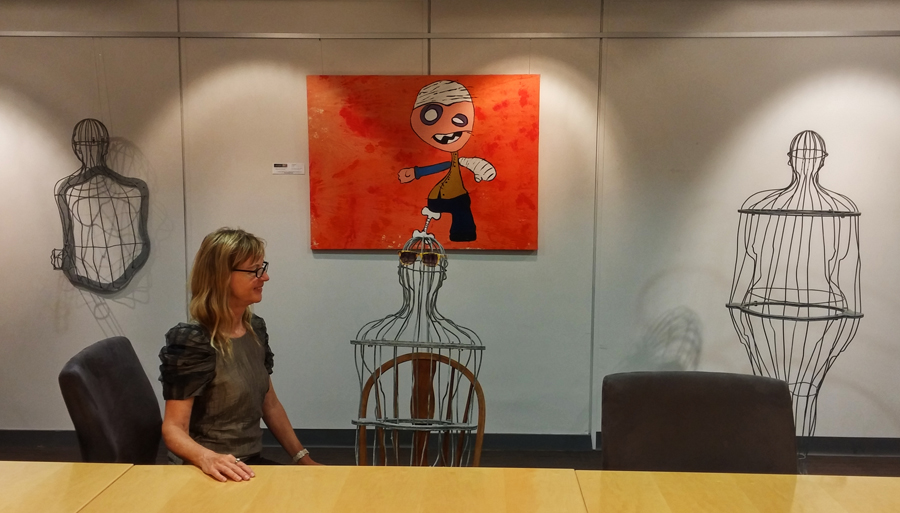 Putting sculptures in your boardroom has several great advantages:
When you are in suffering due to a shortage of clients, just imagine that the sculptures are real live people and you will already feel much better.
If clients misbehave, point them in the direction of the sculptures stating: this is what happened to the last set of clients that didn't do what we had asked them to.
These sculptures are a great way to meditate on item 2 on the inevitability list: death. Accountants don't need to meditate on item 1, that is: taxes.
The central sunglassed sculpture is admiring a set of quaint characters created by artist Bunkwaa. Bunkwaa studied art at Uni SA. These creations were part of his final body of work at University. At Art Logic we like them so much, we bought them.
Here's what BRI Ferrier's boardroom looks like in panorama view:

I hear you asking: does this client always choose such funky art? To which I reply: how dare you ask such a thing…just kidding. No, every 4 months they go for something totally different. No point in having your boardroom look and feel the same all the time.
The time before they chose a more classical look (paintings by Sophie Dunlop)

At other times they've gone for a burst of colour (paintings by Karen Hammat)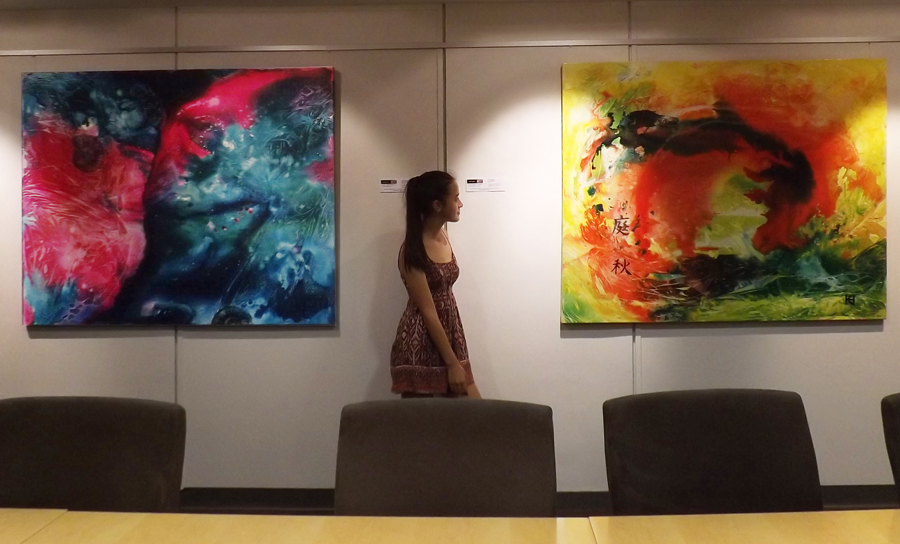 Once they chose to only exhibit sculpture (sculptures created by Roland Weight)
---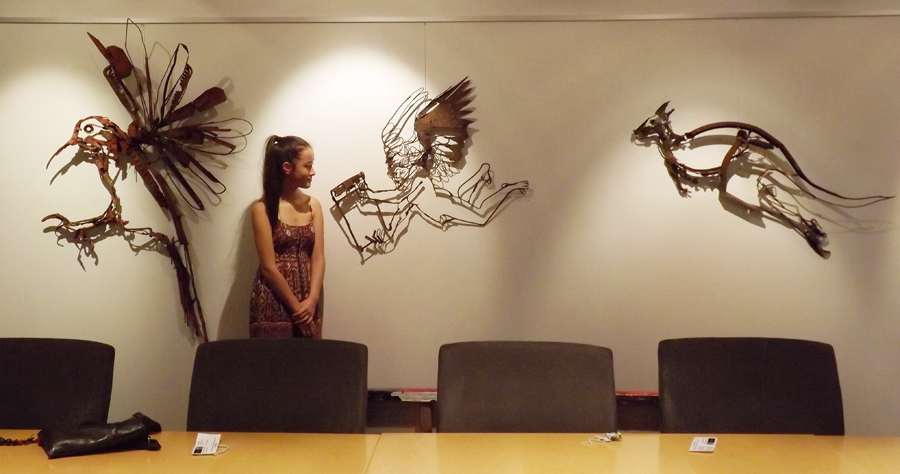 In the past 11 years they've clocked up 33 exhibits- they've become Super Culture Accountants.

The sculptures in the first photo in this article were made by Adelaide sculptor Gerry McMahon. When his sculptures want to relax they choose a different setting:
Another client, Perks , also accountants, positioned the sculptures in their waiting room.

These sculptures have certainly ticked up a fair few miles, though their diet has left them a bit emaciated. Perhaps a career in fashion will follow.

So whether you're Super Accountant, saving the world from misplaced decimal points, or Ultra Lawyer, crusading for the right to use 'thereunto the third party' in your favourite contract, Art Logic can brighten your day.